Archive: January, 2009
Jonathan Squibb

, a skinny 23-year-old from Winslow Township, NJ, is the new Wing Bowl champion. Super Squibb tore through 203 wings, 23 more than second place finisher

Not Rich

, and 50 more than third place eaters

Hank the Tank

and

Da Disposal,

while chomping his way to glory and a brand new Mini Cooper, from Mini on the Main Line. Going into the competition, the Rutgers and Winslow Township High grad was ranked with 9 to 1 odds by 610 WIP's

Al Morganti

, who created Wing Bowl. "Nobody believed in me but my family, but I knew I could do it," said Squibb, who is "in career transition." He plans to celebrate tonight with family and friends. What was his secret? "It's more up here than down here," he told us, pointing first to his brain, then his stomach. Squibb says he will absolutely return to defend his crown next year at Wing Bowl 18.
New Orleans Saints lineman

Jahri Evans

chose the Wing Bowl over the Super Bowl. The football player, born at Frankford Hospital, is here in an old-school Phillies jacket and cap.
State Supreme Court Justice

Seamus McCaffery

is making the event a little more honorable. His Honor, a huge fan of Wing Bowl, is repping the Steelers with a black and gold Steelers sweatshirt.
"I'm still an Eagles fan," McCaffery says, adding that he makes sure to serve the whole state.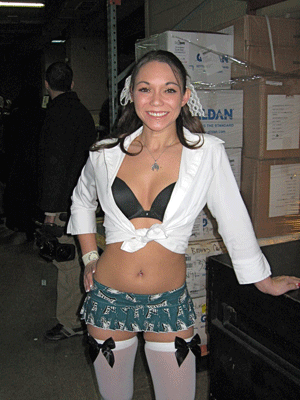 Toastee

from VH1's "Flavor of Love 2" and "I Love Money," is here. She's one of

"Damaging Doug" Canavin's

Wingettes. Toastee, aka Havertown's Jennifer Toof, says she's working on a dramatic series pilot for TV and keeping her reality show options open. Toastee says she's currently taking online courses through Harvard. Go figure.
Wing Bowl ringleader

Angelo Cataldi

says he's more nervous than ever for Wing Bowl this year. With all amatuer eaters, there could be more vomiting, predicts Cataldi. Stay tuned.

"Gentleman Jerry" Coughlan

, favored by some to take the crown this morning, was perfectly calm when we spoke with him moments ago. "It comes with the experience," says Coughlan, who warns that just because he's not psyched full of nervous eneregy, doesn't min he won't chomp his way to victory.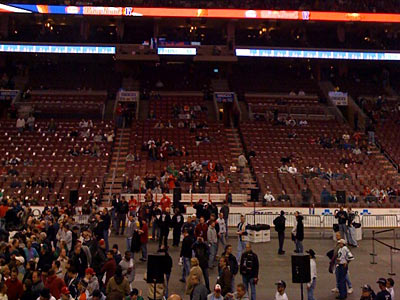 We've just arrived at the Wachovia Center for Wing Bowl 17 and will be providing updates on the eaters, and more importantly, the Wingettes, very shortly. In the meantime, you can compete at home by clicking here.
Philadelphia Wings tough guy

Geoff Snider

will be featured at 9 tonight on the TruTV series "Most Daring." Here's the clip of Snider on the program, which interviews the bruiser who says he fights to change momentum of a game.
With Tiffany Heller sitting out Wing Bowl 17 (Friday at Wachovia Center) with a foot injury, it's anybody's game. For the past four years Heller has served as a Wingette for the winning eater. First she cheered on Bill "El Wingador" Simmons in Wing Bowl 13, then spent three years alongside Joey Chestnut for his three-year streak. The busty brunette says that she will be listening to the broadcast at home, on 610-WIP and we encouraged her to also follow the action on Philly.com. "It was more of a show with the professional eaters," Heller, 25, said yesterday. "Who knows this year, though, because they're all new." The good-luck-charm admits that even while paired with Chestnut she "always rooted for the underdog." Now she can again. Everyone's an underdog this year.