PYT, the Northern Liberties burger joint located in the Piazza at Schmidts and known for its crazy burger combinations, posted a picture of a receipt to their Facebook featuring a check from Eagle LeSean McCoy, who tipped at whopping 20 cents on a $61.56 check. That's a .3 percent.
Server Rob Knelly, who has worked at PYT for 3 and a half years, said that McCoy and his three friends were rude and loud the entire time they dined. "I wasn't surprised [by the tip], I saw it coming. They were extremely rude. I kept my cool for as along as I could, where you just don't want them yelling and cursing you," Knelly told me, saying that the party was apparently not happy with their food and asked "What is this s---?."
"It was very loud and not for a family style restaurant," Knelly added.
NBC10 meteorologist Tedd Florendo is returning to Las Vegas after joining the station in September of last year He will report back to the CBS affliate from whence he came, according to TV Spy. Waiting on statement from NBC10 and Florendo about the depature.
Florendo is one of the many departures as of late. Bob Kelly left CBS3 last week, along with Elizabeth Hur. Kacie McDonnell left Fox 29 earlier the month to be with her boyfriend, Kansas City Chiefs quarterback Aaron Murray.
Fox 29 sports anchor Colleen Wolfe is leaving Fox 29 for the NFL Network according to various sources. Her final day is on Sunday, and she'll start with the NFL Network on Tuesday. The Drexel grad had been with Fox 29 since 2012. Wolfe was a popular figure in the market, making it all the way to the quarterfinals of Crossing Broad's Philly Sports Media Field of 64, upsetting NBC10's John Clark and CSN's Marshall Harris and Neil Hartman.
Replacing Wolfe, is former 6ABC sports anchor Keith Russell, who returns to the Philadelphia market. Russell, a West Oak Lane native, spent seven years with 6 before departing for Washington, D.C. The Central High grad, who left the market in 2012, did a stint at ESPN before his 6ABC tenure.
Russell will join Howard Eskin beginning next week as a co-anchor for "Game Day Live." He will also anchor the stations Friday and Saturday night newscasts at 6 and 10 p.m., in addition to contributing to the "Sports Sunday" show.
Harry Donahue announced he will be leaving KYW NewsRadio 1060. He had been with the station since 1973, serving as a morning anchor among other responsibilities that included covering two Super Bowl appearances by the Eagles, the MOVE bombings and 9/11.
Donahue, who attended St. Joe's Prep and St. Joe's University, will remain the play-by-play voicefor Temple men's football and basketball games.
His last day at the station is Friday.
Fox will not be going forward with "Cabot College," the pilot executive produced by Upper Darby's own Tina Fey and her "30 Rock" producing partner Robert Carlock.
The show centered around a women's college that began accepting men for the first time in its history. Deadline.com reports that the network liked the pilot but the cast was no longer under contract and did not want to reshoot it with a new cast.
Don't cry for Fey. This season, she'll have The Unbreakable Kimmy Schmidt, starring "Bridesmaids'" Ellie Kemper, premiering soon.
"Drunk History" is a low concept show that should not work nearly as well as it does. Inebriated commenters tell tales of American history while famous faces reenact the scenarios in all of their slurry glory.
In each episode, host Derek Waters goes to a different city and asks bar patrons about their hometowns. In January, Waters traveled to Philly and filmed at McGllin's Old Ale House (1310 Drury St.) and Geno's Steaks (1219 S. 9th St.) for the episode. Tomorrow, we'll get to see our drunk selves up on screen when the show airs at 10 p.m. on Comedy Central.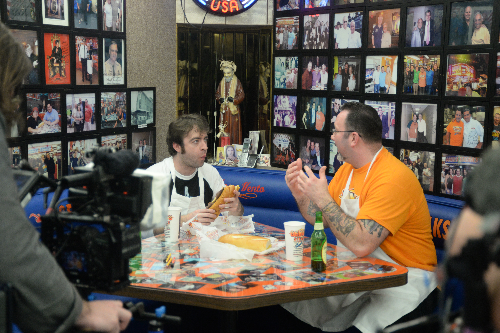 Traffic reporter Kacie McDonnell announced on today's "Good Day Philadelphia" that it is her last day at Fox 29.
In her announcement, McDonnell said she'll be working for a TV station in Kansas City.
The popular traffic reporter has decided to move closer to her boyfriend, Kansas City Chiefs quarterback Aaron Murray (Murray's brother recently won the heart of Andi Dorfman on "The Bachelorette"). Their relationship became public last year.
FOX 29 News Philadelphia | WTXF-TV
"American Horror Story," FX's scary anthology series, is known for packing its ranks with powerhouse actresses, like Jessica Lange, Kathy Bates and Angela Bassett, so why not add a powerhouse singer to the list?
Wynnewood's own Patti LaBelle was recently added to the upcoming season, subtitlted "Freak Show." She'll reportedly play the mother of Oscar-nominated actress Gabourey Sidibe. LaBelle's character will not sing, but, according to TVLine, will play "a local townsperson who begins to unravel the murderous secrets of Twisty the clown killer."
LaBelle is not the first singer on the show. Last season's "Coven" featured a cameo by Fleetwood Mac's witchy woman Stevie Nicks. LaBelle has also logged screen credits before, including a role in the Outkast musical "Idlewild," and a regular spot on "A Different World" and a starring role on the sitcom "Out All Night." "Freak Show," set for a fall premiere, also stars Lange, Bates, Bassett and "The Shield" star Michael Chiklis.