Alycia Lane
Dan Gross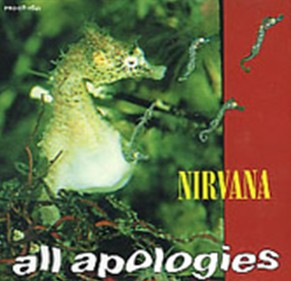 Larry Mendte

continued his Summer Apology tour Sunday night at the Irish Center (Carpenter & Emlen) in Mount Airy. Mendte, with Fox 29 anchor wife Dawn Stensland, addressed a crowd at a fundraiser to save Sunday Irish radio shows. He apologized for his actions and asked the Irish community, whom he called his extended family, for forgiveness. The former CBS 3 anchor on Friday pleaded guilty to a felony charge of illegally accessing Alycia Lane's private e-mails, and later apologized while also admitting to having had a flirtatious, unprofessional and improper relationship with Lane. Michael Bradley, president of the St. Patrick's Day Parade Committee, introduced Mendte by saying, "Here is a man who has done 99 great things in his life but he's only being remembered lately for one mistake he's made." Mendte got a rousing hand from many in attendance, but one of our readers said he felt the apology was "pathetic and really had no place being part of this event."

In other Lane/Mendte news, Fox 29 meteorologist John Bolaris, a good friend of Lane's, has been lobbying station management to hire her there. While it might be a nice ratings stunt to awkwardly pair her at the anchor desk with Stensland, we're told Lane's hire there is unlikely. A Fox 29 spokeswoman says the station has no news at this time. Meanwhile, Bolaris got a shout-out in an interoffice e-mail sent by Fox 29's Dave Schratwieser praising the station's team effort in covering the Mendte/Lane story on Friday. Apparently, Bolaris texted Lane, who got her attorney, Paul Rosen, to do a live hit with Schrat after his news conference.
Dan Gross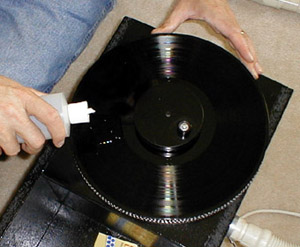 Despite Larry Mendte's Friday admission that he and Alycia Lane had a "flirtatious, unprofessional and improper" relationship, there is a very good reason for Lane to be smiling today.

The former CBS 3 anchor is now a free woman in New York.

Today is the expiration of the six-month period-of-dismissal of her charges of assaulting a female police officer in New York last December. On Feb. 25 in a New York courtroom, the Manhattan district attorney and Lane's criminal lawyer David Smith agreed to an adjournment in contemplation of dismissal. The court administrator's office confirmed last week that as of today, Lane's New York criminal record should now be clean. While her criminal matter is wrapped up, Lane is still busy in civil court as her wrongful-termination suit against CBS 3, which fired her in January, is ongoing.
Dan Gross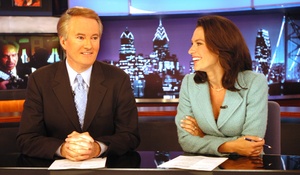 Larry Mendte

moments ago said he and

Alycia Lane

had a "flirtatious, unprofessional and improper relationship," which his wife Fox 29's

Dawn Stensland

discovered when he had left personal e-mails between the pair up on his computer screen at his work when she came to visit him at the office. Once that relationship ended is when Mendte and Lane began feuding, he said. Mendte went on to explain in great detail about how he accessed Lane's emails and admitted sharing information obtained in her e-mails to reporters. He apologized to Lane and asked that the "long mutually destructive feud come to an end. " Earlier today Mendte plead guilty in U.S. District Court to one felony count of hacking into Lane's personal e-mail account. He'll be sentenced November 24 by U.S. District Judge

Mary McLaughlin

. Mendte faces up to five years in prison, but sources close to the case suggest it is unlikely he will go to jail. Here's a link to the full transcript of Mendte's statement this evening, but below is the new shocking admission of an inappropriate relationship between the former co-anchors.

This whole episode started five years ago when Alycia Lane came to Philadelphia. Almost immediately, Dawn heard rumors that Alycia and I were a little too close and she should watch out.The rumors were true. Alycia and I had a flirtatious, unprofessional, and improper relationship. Dawn found proof of that relationship when she waited in my office on New Years Day 2005 and read emails that I had left out on my desk, emails between Alycia and me that confirmed her suspicions. Dawn confronted me with the emails. I told her the truth. I told her I loved her, and I apologized. I then immediately stopped having long dinners with Alycia, staying out late with Alycia, and I stopped allowing her to come into my office to do her makeup everyday. The relationship that was once close quickly turned into a personal feud.

Lane's attorney Paul Rosen held his own press conference tonight in which he tore Mendte a new one, calling his behavior "sick and sadistic." Rosen said he refused to discuss any flirtation only Mendte accepting criminal reponsibility. Rosen described Mendte's statement as "an attempt to get good press once more by trying to hurt Alycia Lane." " He has not learned his lesson," Rosen told reporters tonight. Rosen took exception to reports that Mendte will likely not receive jail time and reminded the media that he faces up to five years in prison. Rosen said Mendte must be punished for his actions. When the People Paper's Stu Bykofsky questioned Rosen about Mendte's perceived admission of "adultery", Rosen grew angry, shouting "I didn't hear him say adultery, or sexual affair...He never said one word about an affair" Rosen threatened reporters that anyone who publishes allegations of an affair between Mendte and Lane would be exposed to a lawsuit. Rosen went on to say there were no words Mendte could offer that would possibly undo the harm that he and CBS 3 have caused Lane.
Dan Gross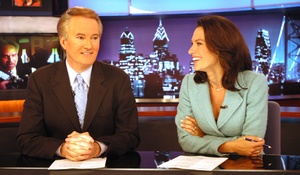 A loyal reader just sent in this CBS3 promo which ran in Fall 2003 when

Larry Mendte

and

Alycia Lane

were first paired on the anchor desk. It may have been the first and last times the anchors said kind words about each other...
Dan Gross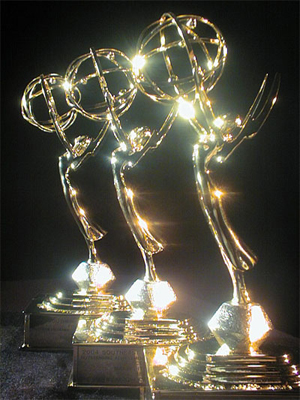 Larry Mendte

usually cleans up at the mid-Atlantic Emmys, raking in awards every year, but this year the local chapter of the National Academy of Television Arts and Sciences is trying to figure out how to handle his entries.

Mendte was charged in federal court Monday with one count of illegally accessing former co-anchor Alycia Lane's e-mails 537 times and will soon plead guilty to the charge. The U.S. Attorney's charging document against Mendte also alleges that he provided information he got from Lane's e-mails to the Daily News.

NATAS board members are scheduled to have a conference call today to discuss whether Mendte should be allowed to be nominated or win an Emmy. Nominations will be announced Aug. 5.
Dan Gross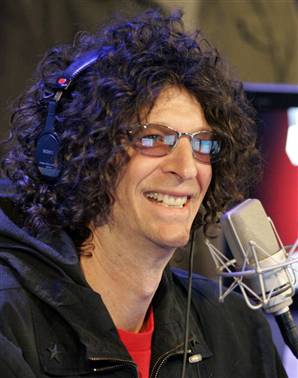 Howard Stern says that CBS 3 should apologize to Alycia Lane and give her back her job. On his Sirius Satellite Radio show yesterday, Stern, a friend of Lane's boyfriend, Chris Booker, formerly of Q102, said he used to think Lane was a bit nutty when she complained that she didn't understand how personal stuff about her was getting in the papers, but now he feels for her. Stern believes that the federal charge Monday against Lane's former co-anchor Larry Mendte, alleging that he hacked her private e-mails 537 times this year vindicates her. CBS 3 should admit it made a mistake in firing her, he said.

Paul Rosen, Lane's attorney, told us yesterday he was unaware of Stern's remarks, but "they are my sentiments exactly.""If they did the right thing that any quality employer should do, they would apologize to her for the harm caused by their employee and her co-anchor, and offer her the job Larry took away from her," Rosen continued by e-mail.

Rosen said that if Lane went back on air, "the old ratings she garnered will be back and her reputation can begin its comeback. It is a win-win for the station and Alycia, and puts the emphasis on the real criminal in this macabre story of Larry's jealous criminal obsession to destroy Alycia."
Dan Gross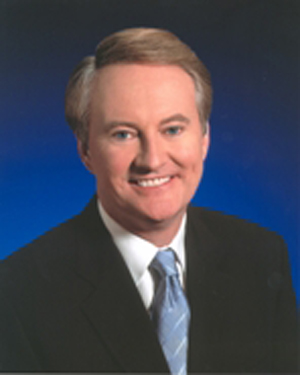 Acting U.S. Attorney

Laurie Magid

is expected to announce at 1 p.m. that former CBS 3 anchor

Larry Mendte

has be charged by information with one count of unauthorized access to a computer system, related to the federal investigation of whether Mendte hacked the private e-mails of former colleague

Alycia Lane

. Legal community sources tell us that when one is charged by information, rather than indictment, it typically signals a plea or sentencing agreement has been reached. Neither

Patty Hartman

, spokeswoman for the U.S. Attorney's Office or Mendte's lawyer

Michael Schwartz

immediately returned calls for comment this morning.

UPDATE: Read the full story from Kitty Caparella in today's paper.
Dan Gross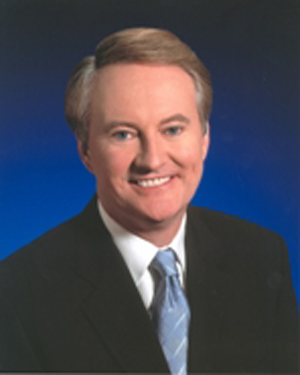 A throng of media are gathered outside the federal court house at 6th and Market streets following up on a tip that axed CBS3 anchor

Larry Mendte

will be making a court appearance today related to the federal investigation over whether he hacked into former colleague

Alycia Lane

's e-mails. Last week another congregation of press assembled outside the courthouse over a similar tip, and while we're not sure there's anything to today's hullaballoo, we are certain Mendte is media-savvy enough to capitalize on a slow holiday weekend if he knew he would make headlines. Mendte, his attorney

Michael Schwartz

and the federal prosecutor assigned to his case did not return requests for comment this morning.

UPDATE: It's 9:32 AM and we can tell you this is a false alarm. We hope the pack of press are reading this post.