Morning TV fans: Tune into "Good Morning America" tomorrow to see weatherwoman Ginger Zee broadcast four weather segments from the Atlantic City boadwalk. The show airs from 7 to 9 a.m.
And if you're in the area, why not go and see Zee?
Zee will be at the Boardwalk between Resorts Casino Hotel and Steel Pier beginning at 6:30 a.m. Everyone is welcome to come and watch Zee do her thing. Along with the forecast, Zee will also preview some AC summer happenings.
Fox 29's Kerry Barrett will have to set her alarm a little earlier when she returns from maternity leave.
I hear the former nighttime anchor is moving to "Good Day Philadelphia." She'll anchor with Chris Murphy from 4 to 7 a.m. and report from 7 to 10 a.m. Barrett was named evening anchor in 2012.
Karen Hepp will move to the 5, 6 and 10 p.m. broadcasts as a reporter.
Tony Goldwyn, who you may not better as President Fitzgerald Grant on ABC's totally-addictive "Scandal," is a big supporter of the Pennsylvania Innocence Project, an organization that works to free people wrongly convicted of crimes. Goldwyn attended the Innocence Project's fifth anniversary shindig last night and my buddy HughE Dillon was kind enough to share a pic of the faux-prez and screenwriter Richard LaGravenese.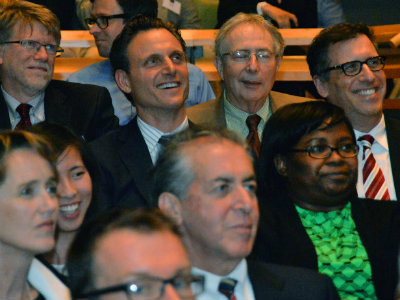 Goldwyn and LaGravenese are bringing the new Philly-set series "The Divide" to WeTV, scheduled for a July premiere. The show features a caseworker ("Homeland's" Marin Ireland) who works to free a man ("The Wire's" Chris Bauer) she believes was wrongly convicted. Nia Long and Paul Schneider also star.
The first clip of "Frankenfood," the new food competition show judged by cheesesteak impresario Tony Luke Jr., has hit the web. The show premieres June 8 at 10 p.m.
"Frankenfood" features regular joes creating dishes out of disparate types of food and getting either a Franken Fail or a Franken Pass from judges including Josh Capon and a revolving door of guest judges (including Philly's own Bobby Fisher, chef of Molly Malloy's in the Reading Terminal).
Victors will win $10,000 and chance to have their food featured on the menu of a local restaurant.
Daralene Jones is leaving NBC10 and returning to her old station, WFTV, in Florida. I hear that Jones is returning down South to be with her husband, who she married in July, garnerning a coveted mention in the New York Times wedding section. They did the long distance thing but they would rather be together.
Jones has been with NBC10 since December 2012.
NBC10 News Director Anziio Williams sent out a note about Jones:
Answer: This former NBC10 traffic reporter will be on "Jeopardy!" tonight.
Question: Who is John Ogden?
Ogden will make his first appearance on the Alex Trebek quiz game tonight at 7 p.m. on ABC.
The New York Daily News reports that Alicia DiMichele, the Philly-based member of VH1's "Mob Wives," is leaving the show.
I called up VH1 and they said they had no comment about DiMichele at this time, but DiMichele has been retweet well-wishers praising her decision.
In addition, DiMichele withdrew her guilty plea of embezzling funds from Big R Trucking, the company she once co-owned with hubs Edward "Tall Guy" Garofalo Jr. A source told the other Daily News that DiMichele quit the show three weeks ago in order to improve her image in court. She was reportedly making $8,000 an episode. DiMichele would not dicuss the matter yesterday at a court hearing.
Allen Iverson documentary, fittingly called "Iverson," will debut at the Tribeca Film Festival on Sunday night. The trailer for the film was just released featuring interviews from Dwyane Wade, Tom Brokaw and Larry Brown who says, "As a coach, dealing with him on a daily basis, nobody trains you for that." Of course, Iverson himself gets a platform to speak as well. The doc is from first time director Zatella Beatty.
The documentary looks at Iverson's high school years (already the source for ESPN's "No Crossover") to his playing time and beyond.