Archive: July, 2011
Since it will be a cold day in hell before we see Mayor Nutter offering to throw down with a TV reporter, please enjoy this 1980 clip of Mayor Frank Rizzo confronting KYW-3's Stan Bohrman who had staked out Rizzo's Chestnut Hill home reporting on a story about Rizzo's significant police detail.
Rizzo boasted of increasing Bohrman's profile after the encounter since Channel 3 promoted him to anchor about a year after this November 10, 1980 encounter.
"They made him an anchorman," Rizzo said in a radio interview. "Tangle with me and you become a star," the late Rizzo was quoted in an obituary of Bohrman who died in 1994.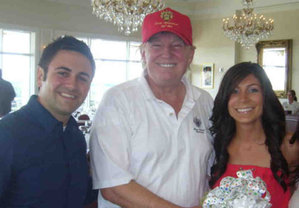 A couple preparing for a weekend wedding at the Trump National Golf Club, formerly Pine Hill Country Club, in South Jersey, had a surprise encounter with Donald Trump on Friday.
While golfing there, Trump struck up a conversation with Steve Tremblay, 30, who works for Independence Blue Cross, and Andria Mola, 27, a graphic designer. They were there for their wedding rehearsal.
Trump asked whether they booked the wedding before or after he bought the place in December 2009. They said before. "Oh, then you got a good deal," Trump said. He then posed for photos with the couple and signed their guest book, which Andria excitedly shared with guests the next day.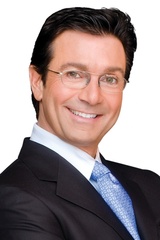 The storm of the century could be brewing between Fox 29 meteorologist John Bolaris and his Twitter impostor.
Bolaris signed up for Twitter Thursday @john_bolaris. Why not @johnbolaris? Because since January 2010 that account has been used to mock him by a prankster who will be hearing from attorney Chuck Peruto, Jr. today according to Bolaris.
The Weatherman tells us he only learned Thursday of the fake account which posts regularly about Bolaris womanizing and pushing 60, (He's 53). Real Bolaris says a female friend of his had engaged in conversation with his imposter without realizing it wasn't him.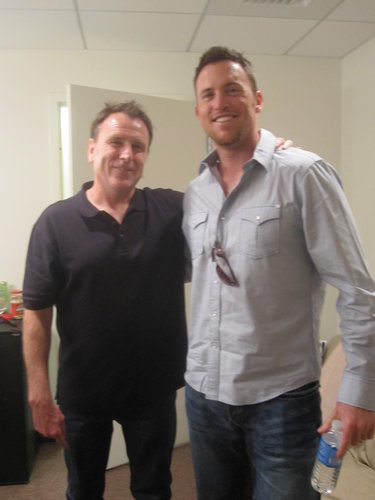 Not traveling with the Phillies while on the DL, injured closer Brad Lidge caught former "SNL" funnyman Colin Quinn's show "Long Story Short" at the Suzanne Roberts Theatre Saturday.
Lidge stopped backstage afterward and he and Quinn finished up a conversation about archaeology they had started Thursday at Citizens Bank Park where Quinn threw out the first pitch before the last Red Sox game. The Phillie Phanatic called the pitch a strike and Quinn, usually a Mets fan, said it was a lifelong dream to be on an MLB field.
His show, presented by the Philadelphia Theatre Company, runs through Sunday at the Suzanne Roberts Theatre. For tickets, or info, call 215-985-0420.