Archive: January, 2009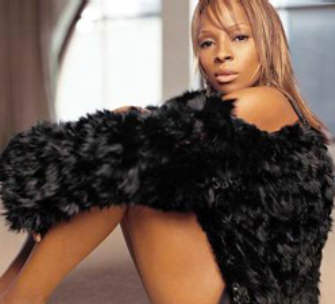 Two New Jersey songwriters have filed a copyright-infringement suit against mega-producer Rodney Jerkins, singer Mary J. Blige, rapper Jay-Z, Universal Music Group and a dozen other defendants in U.S. District Court in South Jersey. The songwriters, Jermaine Jumpp, of Willingboro, and Michael C. Adams, of Union Township, claim that they sent Jerkins a CD with several tracks they wrote in 2001 and that in 2005 Jerkins produced a song "Enough Cryin'" by Blige that they claim sounds a lot like their song "On My Grind." The pair is seeking to halt the sale or distribution of the song until they are properly credited as songwriters, as well as an accounting of any royalties they may be owed from sales. The complaint gives no indication why the pair waited so long to sue. We called the law firm representing the songwriters to ask for a copy of their track so we could decide if the song and "Enough Cryin'" were similar, but their attorney did not return several calls. Reps for Jerkins and Universal did not return our requests for comment.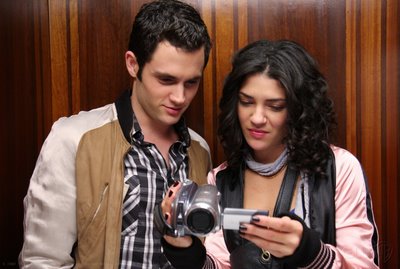 South Philly's

Kristin Thomson

received a flurry of texts Monday night from friends telling her that her old record label Simple Machines was just namedropped on "Gossip Girl." Dan (

Penn Badgley

) asked Vanessa (

Jessica Szohr

) to "swear on your Simple Machines 7-inches," to keep a secret. Thomson, now education director for the Future of Music Coalition, ran co-owned the indie rock label with her

Tsuami

bandmate

Jenny Toomey

. Ending in 1998, Simple Machines put out records by

Tsunami

,

Monorchid

,

Retsin

,

Ida

and a limited-edition cassette called

Late

by a pre-

Nirvana

Dave Grohl

, an old friend of Thomson and Toomey, of songs that later became

Foo Fighters

tunes. "I think it's really interesting when people who write movie and TV scripts get wider in their cultural references," Thomson told us yesterday. "Simple Machines throws back to the '90s but for a certain set of people and given the context of the show it makes sense even though the characters are one generation from Simple Machines," she said. Future of Music is a national non-profit which works to ensure that artists can be properly compensated for work in the age of downloads.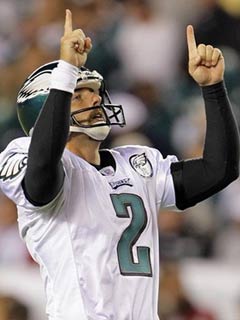 Thankfully Donovan McNabb picked up his regular chicken-cheesesteak hoagie from Talk of the Town (3020 S. Broad) Saturday afternoon before the Iggles rolled up to East Rutherford to dwarf the Giants Sunday. We told you last week how the Birds were victorious several times on the road when D-Mac stopped into the steak shop for his last Philly meal before leaving. After our report, B101's Morning Show with Tiffany and Michael had kicker David Akers on-air Friday, and he said that he would try a sandwich there. He did. The shop delivered a steak with provolone to Akers before the team departed Saturday. Akers, who previously had only 50 percent field-goal accuracy at Giants Stadium, went a perfect three-for-three on Sunday.

In other Iggles news, Fox 29 received a handful of e-mails and phone calls from what a station spokeswoman calls Philadelphia's "famously vocal fans," regarding the technical error that caused meteorologist John Bolaris to appear on local television screens for 10 seconds with just under 4 minutes left in the 4th quarter of Sunday's game, followed by 2 seconds of a Verizon commercial.
Jamie Foxx is lunching now on mussels at Stephen Starr's Parc on Rittenhouse Square where he also ate this weekend. The Oscar-winning actor is in town getting ready to start shooting "Law Abiding Citizen," in which he plays a district attorney. His lunch companion is the film's director F. Gary Gray.
Jamie Foxx

made a surprise appearance Saturday night to perform with

Ludacris

at the Electric Factory in a show presented by Wired 96.5. Foxx later hung out at G (111 S. 17th) partying with Wired's

G-N Kang

and friends. The actor/musician is here for "Law Abiding Citizen" co-starring

Gerard Butler

which director

F. Gary Gray

starts shooting in the area next week.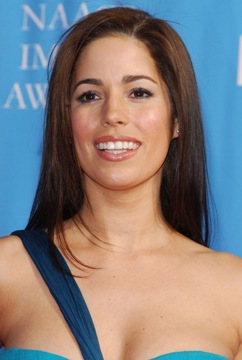 "I am ecstatic. I am the happiest guy in the world right now," says Angel Ortiz about the news that his daughter "Ugly Betty" actress Ana Ortiz and her guitarist husband Noah Lebenzon, both 37, are expecting their first child. "She and Noah came over a couple of weeks ago and she said she wanted to have special Puerto Rican delicacies that she liked and they stayed over and came by and stayed over and said "I'm pregnant," and everybody started going nuts," the former Councilman told us moments ago. Ortiz, a University of the Arts grad, whose engagement to Lebenzon she confirmed first for the Daily News, has not yet returned an e-mail we sent her this morning. Angel Ortiz said earlier he thought the baby was due in mid-June, though People has reported the end of July.

UPDATE

: "They aren't going to be writing it into the show, so I guess I'll be carrying a lot of boxes and standing behind my salon chair," Ana told us this weekend. "We're thrilled. I'm so glad to be having an East Coast baby," she said as she and Lebenzon now live in New York no longer in Los Angeles. "Do they make Eagles onesies," she asked. Actually they do.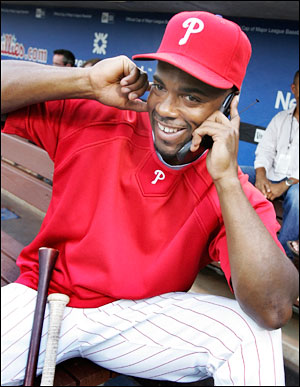 Jimmy Rollins

is a stand-up guy. He proved it again Tuesday afternoon, when a ballsy high-school student knocked on the door of his South Jersey mansion to ask the Phillies shortstop if he would place a call to Wired 96.5.

The radio station is giving away a pair of Eagles/Giants tickets to the listener who can get the biggest celebrity to phone in on their behalf.

John Buto, 17, a senior at Kingsway Regional High, in Woolwich, Gloucester County, knocked on Rollins' door after school Tuesday along with a few friends and politely explained the contest to Rollins. To Buto's surprise, J-Roll invited the gang into his home and called Wired host Kannon's show.
Drexel Hill's Micah "Wing Kong" Collins is upset that he can't compete in Wing Bowl 17 (Jan. 30 at Wachovia Center) because he's a pro eater and this year's event is open only to amateurs. "I genuinely respect they want to bring it back to Philly, but there are a few local, terrific pro eaters," says Collins, referring to past Wing Bowl contestants Eric "Steakbellie" Livingston and "Humble" Bob Shoudt, whom he feels should have a chance to compete.

Collins will attend the event alongside first-timer Richie "Beefcake Cheesecake" Souder, whom he is training.

Wing Kong, a systems administrator by day, predicts that with all amateurs on the bill, the highest number of wings eaten this year "won't even be half" of California's three-time champ Joey Chestnut's record of 241 set last year. Collins is certain that several contestants will suffer reversals (that's what puking is called in competitive eating) and therefore will be disqualified, due to the strict "You heave, you leave," policy.
Busty blonde Sondra Fortunato is miffed that her beloved New York Giants asked her to tone down her cleavage-baring antics which she was famous for at home games. Now she's also bummed that some face-painted wenches stomped on her Cadillac as she drove near the Mummers Parade. While she recently toyed with the idea of rooting for the Eagles, Fortunato was non-committal when Stu Bykofsky asked for whom she'll cheer Sunday.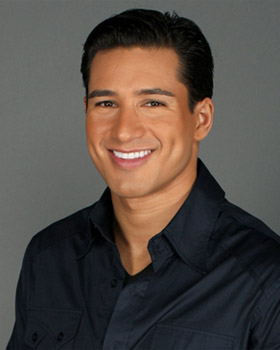 Mario Lopez

was up at 6:30 yesterday morning to run the Art Museum steps before starting a day of interviews promoting "Extra," the celeb news show he co-hosts weekdays (7 p.m., NBC 10).

The actor, who had stayed at the Four Seasons, told us that the "Rocky" statue belongs at the top of the steps, and argued that it is most certainly art when we informed him of the battle that resulted in the bronze version of Sylvester Stallone being put on the lawn. "It's an inspirational story the city should embrace," he said.

Lopez, who returns this season as a plastic surgeon on FX's "Nip/Tuck," and next month starts another season of MTV's "America's Best Dance Crew," is also at work on a children's book series, "Mud Tacos," with his sister Marissa, based on their San Diego childhood. After he did NBC 10's "10" show we caught up with Lopez yesterday over lunch at Buddakan (325 Chestnut) where he went for miso soup, sashimi, tuna tartare, edamame ravioli and hot green tea.