Archive: August, 2009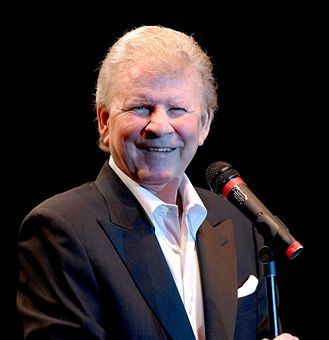 Lower Merion Police are awaiting the results of a blood test that Bobby Rydell received Tuesday afternoon after the crooner crashed his Bentley into the wall of a Main Line yoga studio. Rydell, who is listed on an accident report under his real name Robert Ridarelli, was briefly taken into custody, but has not been charged. "Alcohol may have been involved," Bill Boegly, captain of operations for the Lower Merion Police Department told us this afternoon.
Rydell told Action News yesterday that he had "a couple drinks at lunch" but he didn't think he was impaired. Boegly says if Rydell's blood were to show he was over the legal limit of .08 percent he could be charged in the accident in which he hit the Jai Yoga Studio (727 Montgomery) in Narberth. Boegly said Rydell is not prohibited from leaving the area, which is good, as he is working the Suncoast in Las Vegas this weekend.
Rydell declined to speak with us yesterday, though his wife Linda Hoffman Rydell said she was glad nobody was hurt and wished the incident had not become such a big deal. She said Rydell told her he had tried to turn into the parking lot to get away from a car following behind too closely. She also said the Bentley did not suffer any body damage.
During puppy-killer-turned-Eagle Michael Vick's interview on "60 Minutes" Sunday, a reference was made to a team of PR and image consultants who were working to help rebrand Vick to the masses following his release from federal prison. One of the consultants shown was Washington, D.C.-based Judy Smith.
Smith, a former White House press aide under the first President Bush, came under fire earlier this year while working for New York Gov. David Paterson, and was blamed for telling reporters that Caroline Kennedy would not be considered for Hillary Clinton's vacated Senate seat due to problems related to taxes, her marriage and a nanny.
Smith was reported in February to have orchestrated the public attacks on Kennedy and her character, though signs later pointed to Paterson as having approved of the leaked info.
Usually the girls of Club Risque (3025 Veterans) in Bristol shake it inside for tips but on Saturday 16 dancers from the club earned $2,000 for the Susan G. Komen Breast Cancer Foundation in a "Save the Ta-Tas" bikini car wash in the club's parking lot. The event, sponsored by 93.3 WMMR, was such a success, we're told they may do another soon.
James Gandolfini hung out at the Borgata's B Bar, Level One bar and later club mur.mur Saturday night in Atlantic
City. The "Sopranos" star who can now be seen in the political farce "In the Loop," earlier caught the New Breed Fighters Mixed Martial Arts event at Resorts...Tony Danza, who's crashing at the Piazza at Schmidts in Northern Liberties, has become a regular at Darling's Diner there. We're told he favors the diner's chicken soup and fries. Danza should learn from the School Reform Commission decision this week whether he can film his A&E project "Teach" at Northeast High...Paul Rudd and Owen Wilson had drinks at the rooftop lounge of Continental Midtown (18th & Chestnut) Friday night...And of course as pictured here, 94 WYSP's Danny Bonaduce leapt into the arms of the crowd at Bally's Bikini Beach Bar Friday night after blowing out the candles on his 50th birthday cake. He also played guitar with Fosterchild, who played the party along with the Exceptions and DJ Danski.
President Obama will attend a Sept. 15 fundraiser for Sen. Arlen Specter at the Pennsylvania Convention Center, according to an e-mail Comcast executive David L. Cohen sent supporters today. The event which Mayor Nutter, Gov. Rendell and Specter will attend features a $1,000 cocktail reception, another VIP reception for those who raise at least $10,000 and a dinner for which "an individual must write (not raise) a minimum of $10,000 or raise $50,000" to attend, Cohen's note says. The missive instructs guests to make checks payable to Pennsylvania Senate Victory 2010 and promises all dinner guests will have a picture taken with Obama and Specter. "Thanks to your incredible effort and generosity, we are well on our way to our $2.5 million event goal. So far, we have more than $600,000 in hand and more than $700,000 in additional firm commitments. But we still have a lot of work to do," Cohen writes.

Jerry Springer stars as the flamboyant attorney Billy Flynn in "Chicago" next month at the Academy of Music and also soon plays the role on Broadway, but fear not, the king of trashy talk shows isn't giving up his bread and butter any time soon. "It's two days a week. It's mindless. Anyone could do it," says Springer of his relaxed schedule of taping three episodes on Mondays and two on Tuesdays of the syndicated show he's hosted for 19 years.
He says "Chicago" producers offered him the role after seeing him on "Dancing with the Stars," and they hired him before they bothered to ask if he could sing. "I can carry a tune," he says of his singing skills.
The talk-show host has earned great reviews for his performance as Flynn on the London stage and before opening in Philadelphia he'll also play the role on Broadway. "The best acting is not acting," Springer told us.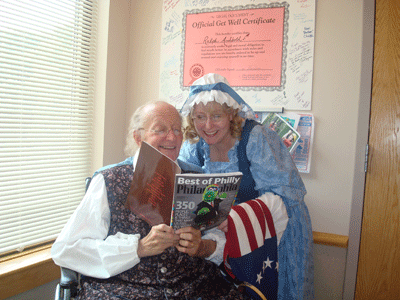 The nation's most prominent Benjamin Franklin impersonator Ralph Archbold is back at home recovering from his recent stroke, reports his wife Linda Archbold. Linda, a Betsy Ross impersonator, had to miss Philadelphia magazine's recent Best of Philly party as she was busy caring for her husband who was then at Bryn Mawr Rehabilitation where this photo was taken. Linda was honored to have won the mag's Best Colonial Impersonator award.
University of the Arts alum Clayton Reilly will be playing trumpet with John Legend when the soulful Penn grad plays the Mann Center Saturday night. Reilly, 25, a Bethlehem native, has been hooked on jazz since childhood, when he would listen to big-band records with his grandfather. He graduated UArts in 2006 with a degree in trumpet performance and has since played with Patti Labelle, Natalie Cole and Diddy. He toured with Corinne Bailey Rae in 2007, when he met Legend, though Reilly only recently joined his band.
First Lady Michelle Obama and daughters Malia and Sasha got a private tour of the Betsy Ross House (239 Arch)
Saturday afternoon. We're told Malia recently wrote a paper for school about Betsy Ross and wanted to see for herself where America's most famous seamstress had sewed the flag. The Obamas also stopped at Carpenters Hall, Independence Hall and on South Street where they took in artist Isaiah Zagar's mosaic work around 10th Street.