Kevin Hart is going all buddy comedy in his next movie, "Ride Along," with rapper-turned-actor Ice Cube.
The movie features Hart as a school security guard who tries to win over his potential future brother-in-law by joining him in a day on the job. Hijinks and short jokes surely will ensue.
Of course, if you read my column today, you know that Hart opens is new stand up movie "Let Me Explain" on Wednesday and will be in town on Thursday to host the Fourth of July Jam, featuring John Mayer, Ne-yo, Jill Scott, J. Cole, Grace Potter, Ben Taylor and Demi Lovato.
Fox 29 reporter Claudia Gomez announced via Twitter on Friday that she would not be renewing her contract with the station. According to her tweets and sources close to the station, the decision to leave was completely Gomez's, and not the station's.
A rep at Fox 29 confirmed that Friday was Gomez's last day.
Gomez has had quite the tenure for a reporter. She's been with Fox 29 with 2001 when she came to Philly from Sacremento.
Hey, remember this morning when I got all excited about Snoop Lion at Philadelphia International Airport? Turns out, that's an imposter, so says Side B Radio host Phil Jackson. He emailed to tell me that while the resemblance is uncanny, that's not Snoop Lion in the picture, but Clementon, NJ's Lawrence Johnson.
What tipped Jackson off? Johnson appeared at a Lyrically Fit hip hop showcase at the Trocadero Theatre a couple weeks back. Not to mention, the real 6'4" Snoop is taller than Johnson.
How do I know? Check out this picture on Johnson's Facebook page, featuring the exact same outfit from the incorrect picture: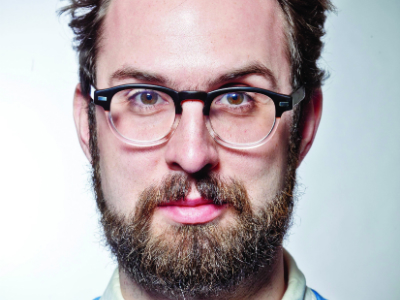 Doogie Horner, a comedian and art director at Quirk Books, is leaving our fair city for New York. Those unfamiliar with the local comedy scene, where Horner is a Big Fish, might remember him from his 2010 stint on "America's Got Talent." (Watch his video below.) The same year, he won Helium's Philly's Phunniest.
Horner told me that he and his wife have been thinking about making the move for sometime now. Simply, New York is where the gigs are. The move will also serve Horner's wife, who is an artist. In addition to his work as a graphic designer, Horner is also an illustrator and writer, penning Everything Explained Through Flowcharts: All of Life's Mysteries Unraveled, Including Tips for World Domination, Which Religion Offers the Best ... the Secret Recipe for Gettin' Laid Lemonade and the upcoming 100 Ghosts: A Gallery of Harmless Haunts.
Despite the move, Horner will certainly miss his home of 15 years. "The thing I'll miss most is that people are lot more chill in Philadelphia. If you do comedy in Philadelphia, you do it because you enjoy it. The stakes are very low. In New York, they take it a lot more seriously because people moved there specifically for comedy."
Krissi Biasiello, a contestant on the fourth season of Fox's "MasterChef," has a nasty social media past. The show, hosted by hotheaded chef Gordon Ramsay, features amateur chef's competing for culinary glory.
Some of my spies sent me tweets from Biasiello's account where she says some not so nice things. For example:
(The edit is mine, clearly.)
Philly Redditor moneyball026 just shared this photo of his brother with the one and only Snoop Lion (formerly Snoop Dogg) posing with his brother at the Philadelphia International Airport this morning. Always nice to see a celeb looking quite excited to pose with a fan (he actually looks more psyched than the kid).
Lion may be a West Coaster, but he's a big football fan, recently making headlines for declaring his allegiance to Michael Vick over Nick Foles in the Great Eagles Quarterback Debate.
Check out the trailer "Thanks For Sharing," a romantic comedy about the troubles and travails of sex addiction featuring Doylestown's own Pink, credited this time around by her real name Alecia Moore.
The movie also stars Mark Ruffalo, Tony-nominated actor Josh Gad, Tim Robbins and, of course, Gwyneth Paltrow, who strips down to her skivvies in the trailer. Pink is Dede, the female sex addict of the mostly-male bunch. Pink is no stranger to acting, with six credits on IMDB (although a couple feature her playing herself, namely in "Get Him to the Greek").
"Thanks for Sharing" is out in theaters September 20.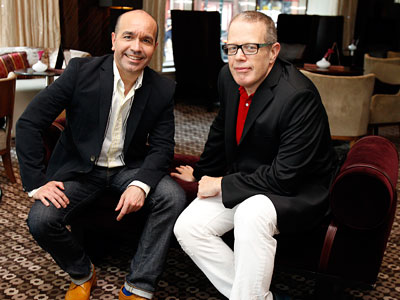 Philly-based red carpet fashion bloggers Tom and Lorenzo proposed to each other via Twitter today after hearing the the Supreme Court found the Defense of Marriage Act unconstitutional.
The couple has been together for 17 years, while sharing a blog about what the celebrities are wearing since 2006.
(To learn more about Tom and Lorenzo, read my profile from last year.)