Buddy Valastro, better known as the main man from TLC's "Cake Boss," has started a new venture in "Bakery Boss." Valastro heads to bakeries around the country, telling them how to fix their problems and start rolling in dough. Tonight, Valastro fixes up Oteri's Italian Bakery (4023 Fairdale Rd.) right here in Philly and I've got an exclusive preview of what's to come.
Oteri's ends up making a giant cheesesteak cake for Geno's Steaks. The South Philly institution was supposed to host a viewing party but Geno Vento is having knee replacement surgery and had to cancel. Get well soon, Geno!
I interviewed Valastro earlier this month and he said one of Oteri's biggest problems was that they didn't use high quality ingredients, which you can see below.
Glen Macnow has settled on new contract details with SportsRadio WIP. Rather than appear on the midday show with Anthony Gargano, Macnow will serve as "expert contributor," according to a statement.
Macnow will KYW Newsradio's "Reporter's Round-up" and work with Harry Donahue during football season. He will continue to host WIP's Saturday program from 10 a.m. to 1 p.m. with Ray Didinger. In addition, Macnow will contribute to Phillies pre- and post- game shows on WPHT.
Macnow took a hiatus from his midday show earlier this month due to the contract dispute, but continued to appear on the Eagles pregame show.
Congrats to Darren Daulton, who got married this weekend to longtime girlfriend Amanda Dick.
NBC10's John Clark tweeted a photo of the nuptials:
Congrats to Darren Daulton who got married over weekend. RightOnFightOn in battle vs brain cancer pic.twitter.com/Ws6TXcapmn

— John Clark NBC10 (@johnclarknbc10) December 17, 2013
Radio station B101 will be no more on Dec. 26. But it's only the name that's retiring. The station will be known as MoreFM at 101.1.
The format of the station will not change, the DJs won't change, the place on the dial won't change. Just the name.
In a statement, station owner Jerry Lee said that the name change did not reflect poor ratings. And he's right. B101 consistently dominates in the Philadelphia radio market in the ratings, a feat for an independently-owned station.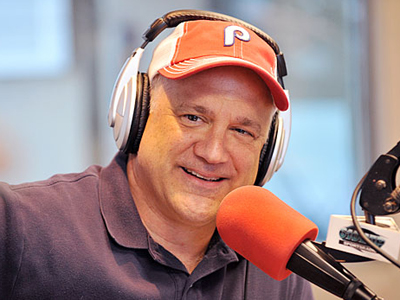 WIP host Glen Macnow just left his afternoon hosting stint along with Anthony Gargano, citing a contract dispute for his early departure. Macnow's contract is up at the end of the year and he's currently in negotiations.
I reached out to Macnow via e-mail:
"As I said on the air, my contract with WIP is finishing up. WIP management and I have agreed that I should take some time off the air until my contract situation at the station is resolved. I just finished my 20th year at the station. Just let me say that I've cherished the opportunity to work with three great partners in Jody McDonald, Ray Didinger and Anthony Gargano. I love the people at WIP and I particularly love the Philadelphia fans I get to talk with every day. I hope to continue talking with them."
Lafayette Hill's Terrence Howard, who is currently starring in "The Best Man Holiday," tied the knot with his gal pal, a Canadian woman named Miranda, According to Radar, the couple have only been dating for one month.
Canuck Miranda may have wanted to look into Howard's past relationships. This is his fourth walk down the aisle and he hasn't been so nice to previous lady friends. Philly Mag's Victor Fiorillo documented Howard's local accusations of assault over the summer
Get ready for your close-up (again), Delco. "Silver Linings Playbook" might become a TV show.
At least that's what mega movie producer Harvey Weinstein thinks. In a recent New York Times piece about his movie production company, the Weinstein Company, expanding into TV, Weinstein named-checked "Silver Linings Playbook" as a possible television option. Presumably, the show will take place after the events of the film.
Based on Matthew Quick's eponymous debut novel, the Philly-shot "Silver Linings Playbook" focused on bipolar, mega-Eagles fan Pat Solitano, navigating life after he's released from a mental institution. The film netted eight Oscar nominations, including a win for A-list It Girl Jennifer Lawrence, and boost of acting legitimacy for Rydal-raised Bradley Cooper.
Must watch: "Good Day Philadelphia's" Mike Jerrick stepped in for a sick Karen Hepp to perform Jennifer Beal's iconic dance from classic '80s jam "Flashdance." Co-host Sheinelle Jones tweeted the end of the show was must-watch so I tuned in. And she was right.
It was all in preparation for "Flashdance: The Musical" playing at the Academy of Music through Nov. 24.
Here's Jennifer:
Philadelphia News, Weather and Sports from WTXF FOX 29