The sidewalks along a seven block stretch of Germantown Avenue in Mount Airy will undergo a major beautification project that begins on Monday, officials said.
The $3.5 million streetscape project is being coordinated by Mount Airy USA, a community development and advocacy group. The work is being managed by PennDot, and will run from Nippon Street to Upsal Street. The project will include new decorative pedestrian-scale lighting, and overhead lighting at key intersections. Other improvements will include replacing sidewalks and curbs, installation of benches and installation of new trees in designated areas.
A spate of car break-ins in which electronic items such as laptop computers, MP3 players, and GPS devices were stolen in Chinatown is prompting area Town Watch leaders to urge visitors and residents to be cautious.
From March 29 to April 3, there were five such car burglaries in the area, police said.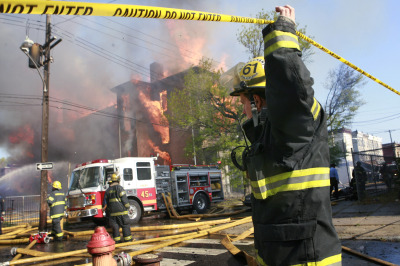 A church in the Strawberry Mansion section plans to rally community support as it works to rise from the ashes of a fire that destroyed the church's longtime home.
The Rev. Robert V. Shipman said a rally, set for 9 a.m. Wednesday, will show community backing for the rebuilding of Prince of Peace Baptist Church, destroyed in 2008 when a fire struck its home at 32d and Berks Streets.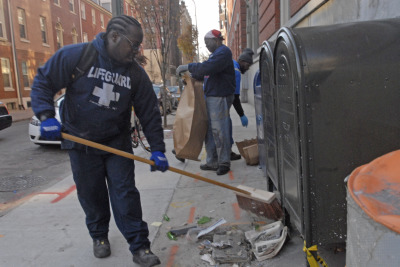 A man sweeps up in West Philadelphia (Inquirer Staff Photo)
Neighbors Curtis Williams, Rebekah Stroman and block captain Louise Bundy gathered outside of their row homes on the 1700 block of Seybert Street to watch a crew from St. Joseph's Prep School clean up during Saturday's citywide Keep Up the Sweep Up campaign. The block nearly backs up on St. Joe's magnificent brick cathedral, now closed to the community as a living church. Williams and the other Catholics in the neighborhood attend Mass at a chapel at nearby St. Joseph's Hospital. About half the homes on the block are gone now, replaced by empty lots in various states of upkeep. Most of the homes remaining are occupied.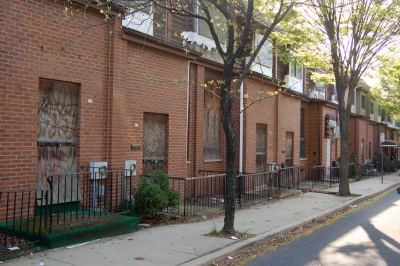 On a mild afternoon, as sunlight broke through the trees, Earnestine Rice swept the sidewalk outside of her home on Osage Avenue. The chore was a small effort, an attempt at normalcy on a block that has become a ghost town.
Almost 25 years ago, a fiery confrontation between MOVE and Philadelphia police ended with 11 MOVE members dead, and a block in ruins.
Despite failed redevelopment efforts, and legal challenges, more than half the houses on the 6200 block of Osage Avenue remain abandoned.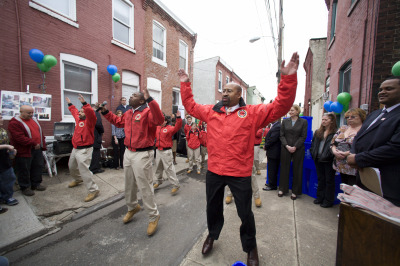 That pile of trash in that lot that frustrates you? That old graffitied-building across the street from your house? Those sidewalk weeds that have grown knee-high? Well, Saturday is the official day for neighbors to band together to clean it all up. The third annual Philly Spring Cleanup kicks off tomorrow morning with the mayor, broom in hand, outside his alma mater St. Joseph's Preparatory School in North Philadelphia. Nutter will be joined by city staffers and former actor turned Northeast High School teacher Tony Danza. There will be 200 cleanup projects throughout the city. The major theme: "Keep Up The Sweep Up," to keep the clean-up effort going for more than a day. Here's hoping.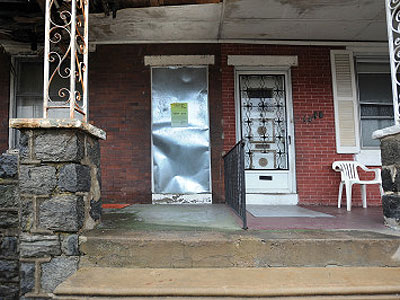 Like the 1400 block of North Conestoga Street in West Philadelphia's Carroll Park profiled in today's Inquirer, there are blocks throughout the city where frustrated neighbors live near decaying houses that threaten to splinter and buckle; that through their broken windows, overgrown weeds and piles of trash have become monuments to careless neglect.
For neighbors living in the grayness of blight, Frances Burns, the city's Department of Licenses and Inspections commissioner, urges them to call 311 to report such nuisances.
Frank Rizzo had looked down Ninth Street for 15 years, peering from the side of Agnes Viso's house at the corner with Montrose Street. But today he's gone, covered over with gray stucco.
Rizzo fans need not despair. The scene with the former mayor and police chief is becoming redone because the wall needed repairing.
Can't have the Big Bambino's nose falling off, can we?