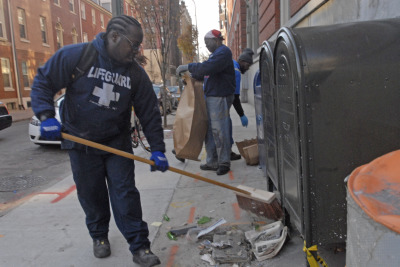 A man sweeps up in West Philadelphia (Inquirer Staff Photo)
Neighbors Curtis Williams, Rebekah Stroman and block captain Louise Bundy gathered outside of their row homes on the 1700 block of Seybert Street to watch a crew from St. Joseph's Prep School clean up during Saturday's citywide Keep Up the Sweep Up campaign. The block nearly backs up on St. Joe's magnificent brick cathedral, now closed to the community as a living church. Williams and the other Catholics in the neighborhood attend Mass at a chapel at nearby St. Joseph's Hospital. About half the homes on the block are gone now, replaced by empty lots in various states of upkeep. Most of the homes remaining are occupied.
The young people, about a dozen of them, moved down the block, sweeping up trash and trying to make some headway in the vacant lots that frame the block. (One kid unearthed a trashbag filled with stuffed and soggy teddy bears. Weird.)
Their work was making a big difference, but Williams doesn't want anyone to think that the neighbors aren't keeping their street clean. "We clean it up so many times a year," he said. Years ago, neighbors took over another empty lot, cleaned it, and installed playground equipment. That equipment is now rusty and rickety and there's a fence to keep the kids -- and trash out. It would be nice if, on this block of elderly residents, the grandchildren had a place to play when they visit. Another empty lot looked like it had the remnants of a garden.
But, they said in frustration, all their efforts can be negated by one non-caring neighbor. They pointed at one house. The residents who live there, they said, treat the empty lots like their own personal trash cans. If a mattress has to go, it's tossed in the empty lot across the street. There's another empty lot between that same house and another house. To discourage dumping, neighbors erected a big wooden fence on the front and back sides of the lot to discourage dumping. But they said, the neighbors toss the trash over the fence.
Even so, Bundy said, it helps when the kids from the Prep come through once a year to clean. It encourages the neighbors, and the students, trading quips and wisecracks, liven up the block. "It's nice to see the young people out here."