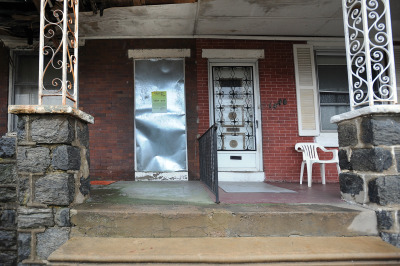 Like the 1400 block of North Conestoga Street in West Philadelphia's Carroll Park profiled in today's Inquirer, there are blocks throughout the city where frustrated neighbors live near decaying houses that threaten to splinter and buckle; that through their broken windows, overgrown weeds and piles of trash have become monuments to careless neglect.
For neighbors living in the grayness of blight, Frances Burns, the city's Department of Licenses and Inspections commissioner, urges them to call 311 to report such nuisances.
Frank Rizzo had looked down Ninth Street for 15 years, peering from the side of Agnes Viso's house at the corner with Montrose Street. But today he's gone, covered over with gray stucco.
Rizzo fans need not despair. The scene with the former mayor and police chief is becoming redone because the wall needed repairing.
Can't have the Big Bambino's nose falling off, can we?
The buzz of chain saws filled the warm sun-drenched air at Johnson and Cherokee Streets in West Mount Airy Monday as a work crew cut away at scraggly limbs on a few trees on the grounds of a massive former Mount Airy Commons, an abandoned retirement home for the elderly and mentally troubled.
The workmen, operating behind a six-foot chain-link fence, were preparing for the April 14 groundbreaking for the Presser Senior Apartments at 101 W. Johnson Streets.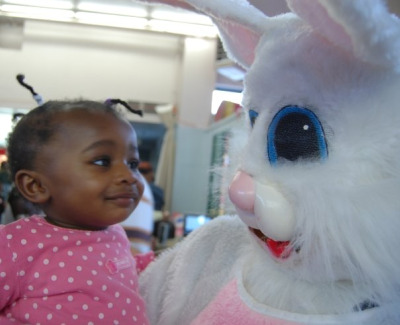 Last year, when 22-year-old Nehemiah Davis organized his first Easter Egg hunt for kids in his West Philadelphia neighborhood, he got rained out.
This year, with bright, warm sunshine in the Easter forecast, "I'm so excited," says Davis, who spent Good Friday and Holy Saturday papering his community with hundreds of flyers.
His Easter Sunday event, held tomorrow afternoon, at Conestoga Playground at 53rd and Media, will feature: moon bounces, potato sack races, the Easter Bunny, Elmo, hot dogs, cotton candy, popcorn, a book drive, face painting, "oh, and of course," he says, getting lost in the laundry list of attractions, "an Easter Egg hunt."
At Potito's Bakery in South Philadelphia, the tastes and smells of Easter are drawing in faithful customers.

Joseph Marano was shopping for holiday treats tonight. "They have the best pastries in the city," Marano said, as he surveyed the tempting array treats in the bakery cases of the shop 1614 W. Ritner St.

"People talk about who makes the best cheese steak," Marano said. "I think the real debate is who makes the best cannoli. They make the best cannoli in Philadelphia right here."

The owners, Matt and Cristina Benigno, said they were expecting a wave of customers over the weekend for favorites such as braided Easter bread, wheat pie, rice pier. Matt Benigno, spoke with pride as he pointed to his "original colossal cannoli," a confection more than a foot long and about 10 inches high and stuffed with about more than a dozen small cannolis.

"Our big thing is our custom cakes," said Benigno, who operates the business which has been family owned for 25 years. He pointed to one featuring a volcano and a jeep from a children's cartoon series.

Benigno said he expects hundreds of customers over the weekend. The shop is open on Saturday from 7 a.m. to 8 p.m. and on Easter the store is open from 7 a.m. to 1 p.m., especially to serve neighborhood residents.
"We have Easter eggs, Easter pound cakes, we have everything."

Marano said he has been coming to Potito's since he was a child.

"I grew up two doors down from here, and when I would come home some nights at 2 o'clock in the morning, I would smell them baking. The smell was great," said Marano. "I can't leave without getting the chocolate roll. It's completely addictive."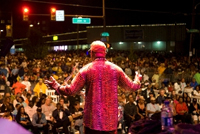 For those who like to step and strut, especially to the sounds of New Orleans-style jazz, auditions are scheduled for dance groups and individual dancers for the West Oak Lane Jazz and Arts Festival Parade. Auditions will be held April 10, from 2 to 5 p.m. at Center Court in the Cheltenham Mall, 2385 West Cheltenham Avenue, for the parade, which kicks off the annual jazz and arts festival. The festival, one of the largest in Philadelphia, will be held June 18 to 2, and feature an all-jazz program. The event, which takes place along the Ogontz Avenue corridor in West Oak Lane, attracted more than 500,000 people last year, organizers said. "Last year we did a ' ' 70s on Saturday theme,' and because we wanted to do an all-jazz festival this year, we wanted to look at who was famous for doing all-jazz festivals," said Erika Griffin, a spokesman for the Oak Lane Revitalization Corp, which sponsors the festival. "The New Orleans Jazz Festival has been going on for 40 years, so that's the theme we chose." "We're planning to throw beads, twirl umbrellas and generally have a good time, Griffin said. Among the performers will be two iconic New Orleans musical groups, The Dirty Dozen Brass Band and the Preservation Hall Jazz Band. Also appearing will be Diane Reeves, David Sasnborn with Joey De Francesco and the George Duke Trio featuring Al Jarreau. To register for an audition, call 1-877-WOL-JAZZ (877-965-5299). -- Vernon Clark
Taking a new approach to fighting neighborhood blight, a nonprofit community development corporation in the Oak Lane section is looking to a new state law to help revitalize a boarded-up storefront in the Ogontz Avenue business corridor.
The Ogontz Avenue Revitalization Corp. (OARC) has taken aim at a storefront at 7452-54 Ogontz Ave, seeking conservatorship of the single-story, 2,992-square-foot building, which officials said has been unoccupied for more than 20 years.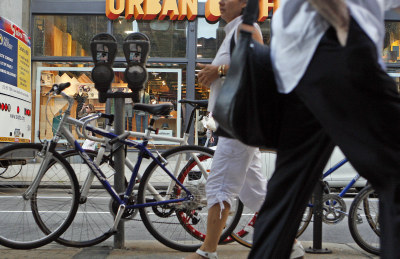 In a trickle down of federal dollars, the city is looking to fund a new round of the Adopt-a-Rack program. The initiative could create bike-parking in places where parking meters and light poles are the only options. Imagine: bike-racks on residential streets, outside of businesses, community organizations, churches, schools...
"Anyone is eligible," says Andrew Stober, a director in the mayor's office of transportation and utilities. "Anybody who's willing to peel stickers off and occasionally paint the bike rack," he continues with a chuckle, noting the willing-to-maintain-the-bike-rack requirement. "I can't promise we'll put a bike rack in front of your house, but we'll take applications from anybody."
Bike riders must apply by next Wednesday, April 7.
In searching through the dozens of applications, Lizabeth Macoretta, executive director of West Mount Airy Neighbors, was reminded that little things go a long way.
One nominee in the community's 50 Good Neighbors contest is a man who winter after winter has blown the snow off his block, from corner to corner.

In the Cobbs Creek section of West Philadelphia, Dr. Bernett L. Johnson is recalled as a determined
University of Pennsylvania medical professor and retired Navy captain, who helped launch a community health center at a West Philadelphia high school.
"Dr. Johnson was the backbone of the clinic," said Nancy Winder, a voluteer at the Sayer Health Center at Sayer High School at 59th and Walnut Streets. "He was dedicated to making sure things were done right."
Today, the health center, which opened in 2007, will be renamed in honor of Dr. Johnson, who died of cancer last April at age 76.
The Sayer Health Clinic, a full-service community health clinic at the rear of Sayer High School was Johnson's dream, said Winder, who also works at the school.
Although illness kept him from attending the groundbreaking, Johnson's planning helped bring the clinic to fruition.
"Dr. Johnson was one of the ones who had the plan for the clinic before it was on paper," said Winder. "He followed through with it until his health failed."
Dr. Johnson, a professor of dermatology and pathology and associate dean for diversity and community outreach at the University of Pennsylvania School of Medicine, helped the clinic which serves West Philadelphia residents. The health center features two full-time staff physicians and treats more than 300 patients a month, according to the university.
Dr. Johnson, who also was a retired Navy captain and an artist, is credited with developing the center's mission to provide education and high quality medical care.
From 1995 to 2006, Johnson was associate dean for the Veteran's Affairs Medical Center in West Philadelphia.
He joined the University of Pennsylvania faculty in 1984 and was interim chairman of the dermatology department from 1993 to 1995.
Among those speaking today is Albert P. Black, chief operating officer for the Hospital of the University of Pennsylvania.
Winder said Dr. Johnson "insisted that the community be involved in the planning and operation of the heath center." She said some community members work there and that two students from Sayer are working there as they pursue college studies in medical related fields.
Dr. Johnson "insisted that the health clinic charged people according to their incomes," Winder said, adding that many people without health insurance receive quality health care at affordable prices there.
"This health center has been a great inspiration to the community," Winder said.