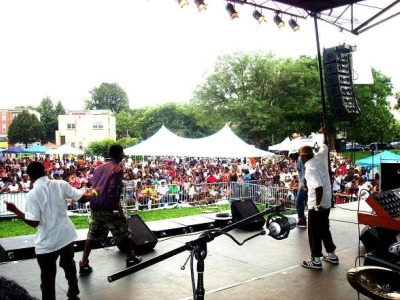 It's called the Give Back, and for eight years, this community festival has showcased great music and some of the activities and development taking place in the Nicetown section of North Philadelphia, said Majeedah Rashid, executive director of Nicetown Community Development Corp., which hosts the event.
"When we first conceptualized the festival, we were interested in getting people in the community to find ways to give back, small, large, whatever," said Rashid. "We thought we would put together something that would celebrate some of the things were doing in Nicetown as well as engage and mobilize people."
For Joanne Petroski, leading a town watch group in her Fishtown neighborhood has been way to connect with neighbors and make her community safer for nearly three decades.
"The whole purpose of a town watch is to get to know your neighbors," said Petroski. "Too many people are insulated inside their houses, especially in this kind of weather. People sit inside their houses in the air conditioning and they never look out their front door or back door."
Around 1:30 p.m., Dicksy Widing stood on her front steps, with a photo of Sgt. Stephen Liczbinski taped to her front window, as a neighbor in a blue sedan slowed down and yelled out the window like a town crier.
For neighbors on Port Richmond's Almond and Schiller Streets, the intersection where officer Liczbinski was shot and killed two years ago, today was verdict day.
"Guilty of all charges," the man in the sedan yelled.
Four days before Ricci Pagliarella opened his hoagie shop in Point Breeze, the second in his family business, the corner property was tied in yellow police tape. As the Crabhouse bar across the street let out that June 3, someone rained bullets on 22-year-old Joseph Addison-Bryant, hitting him three times and taking his life.
A pile of stuffed animals now sits on the corner, with messages of RIP Crack - part memorial, part reminder. And bullet holes still riddle a few row homes, and the side of Pagliarella's business.
In a small anti-violence effort, Pagliarella is offering hoagies for guns.
The nine portraits of a pug, German shepherd, beagle, and six other dogs painted in hues of purple, brown, and orange, decorate the walls inside the Gold Standard Café.

The canines are all from the Chester Avenue Dog Park. Their images appear in the Park Pleasant Nursing Home's art show which opened on Monday in the café at 4800 Baltimore Avenue. The show, on display until at least Aug. 19, is open to the public.

The artists are nursing home residents.

Three years ago, Donald Gensler, artist and former University of Pennsylvania mural arts professor, started a photography club with the Park Pleasant residents. The club morphed into a painting class, Gensler said.

When creating the portraits, the residents take a picture and Gensler draws it in paint-by-numbers format for the budding artists to fill in.

The nursing home's last show was self-portraits. Marie Kinnard, 98, a resident who is legally blind, managed to paint her self-portrait, also done in paint-by-numbers format. Her portrait of the beagle for this summer's show took almost a year for her to accomplish.

"I love it... It makes me feel welcome," she said, of her painting. There were times when Kinnard was frustrated and wanted to resign from the club, but Gensler and other residents encouraged her to stay. "They wouldn't let me quit," Kinnard said.
Pursuing its goal of improving the health of children and adults in the Philadelphia area by increasing access to healthy affordable food, the nonprofit Food Trust is launching the grand opening of a farmers market at Broad and Ritner Streets in South Philadelphia.
On Tuesday, the organization will host the grand opening of the Broad and Ritner Farmers Market from 2 p.m. to 7 p.m. The market will feature seasonal fruits and vegetables, including organic produce, Free-range chicken, grass-fed beef and lamb, baked goods and other products from local farmers.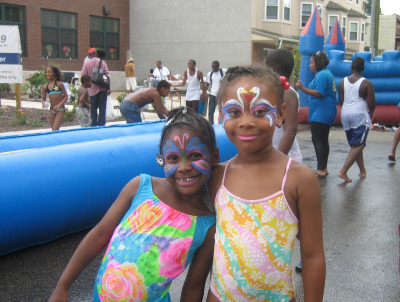 In a celebration of the work of children in a summer enrichment project, a nonprofit community outreach center in Tioga is hosting a "Block Extravaganza," featuring a water slide, a moon bounce, barbecue and face painting.
On Friday from 10 a.m. to 3 p.m. the Mercy Neighborhood Ministries of Philadelphia, will host the event in the 1900 block of Venango Street. Executive Director Sister Ann Provost, said the fourth annual celebration is a way to honor the 190 children in the group's summer enrichment program, their parents and the Tioga community.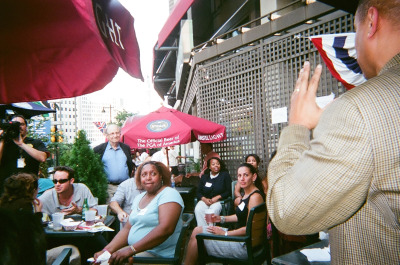 To promote a lively discussion of race relations in Philadelphia and America, a nonprofit group is hosting it's second annual "Beer Summit".
On Friday, Global Citizen, a nonprofit group dedicated to civic engagement and community volunteering, is hosting the event, free and open to the public, from 5 to 7 p.m. at Mace's Crossing, a lounge at 1714 Cherry Streets in Center City.