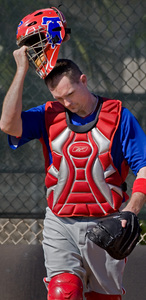 Chris Coste.
Catcher.
Author.
Coste, the popular Phillies catcher who spent 11 years in the minor leagues before he made his big-league debut with the Phillies in 2006 at 33, answered 10 questions from The Phillies Zone readers on Thursday.
His answers appear in today's Inquirer.
Here's one of those questions:
Question: What went through your mind as the umpire called the third strike to clinch the National League East? - Glenn M., Ventnor, N.J.
Answer: Get rid of my gear. Get rid of my stuff. Try to get out to the mound as soon as possible. Unfortunately, in my slight delay, Pat Burrell, the slowest man in major-league baseball, beat me, the second-slowest man in major-league baseball, to the mound. As excited as I was, every time I see that highlight from here on out, I'm going to be embarrassed by the fact that, No. 1, I didn't keep the ball - go figure - and that Pat Burrell beat me to the mound.
Coste's book The 33-Year-Old Rookie is available in bookstores Tuesday.
*
Charlie Manuel hasn't liked what he has seen from his players so far, so he thinks it's time for a little talk.
He hopes it works.
The last thing he wants is another slow start. The Phillies started 4-12 in 2007, 1-6 in 2006 and 10-14 in 2005.
*
This week's Phillies Report includes updates on Brad Lidge, Josh Outman and Carlos Carrasco and notes from yesterday's 9-1 loss to the Braves.
*
Listen to The Phillies Zone's Q&A with Coste.
Your browser does not support the audio element.