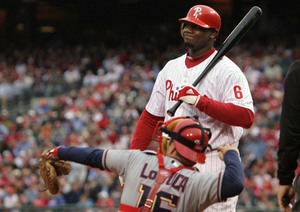 Fact: April typically is a bad month for the Phillies.
Fact: Jimmy Rollins and Shane Victorino have been on the DL for some time.
Fact: Ryan Howard has been in a terrible slump since the season started.
Fact: Pedro Feliz, Carlos Ruiz and Geoff Jenkins haven't hit much better.
Fact: The Phillies have three starting pitchers (Brett Myers, Kyle Kendrick and Adam Eaton) with a 5.00 ERA or higher.
So how in the world are the Phillies 14-12 entering tonight's series opener against the San Diego Padres at Citizens Bank Park? If I told you those things before the March 31 season opener you'd probably say this team would be 10-16 or 11-15.
"What about Jayson Werth?" manager Charlie Manuel said. "What about some of the plays [Eric] Bruntlett has made? What about [Chris] Coste the other day having a big game? Different people have played different roles in it. That's what it's all about. We had injuries last year and we picked it up.
"I don't even want to talk about last year, but when somebody gets hurt - what happened to Wally Pipp? He got hurt, didn't he? The game didn't stop. Hey, I used to tell my pitchers in the minor leagues, when I'd go out to get them, I'd look at them and say, 'What the hell is going on? Why should you be scared? Babe Ruth died. Mickey Mantle had bad legs. Tony Oliva had bad knees. And Charlie Manuel went to Japan. Why should you be scared?' The game goes on."
The game goes on, despite injuries to Rollins and Victorino and struggles for Howard, Myers and others. But Chase Utley and Pat Burrell have been two of the best hitters in baseball this month. That's certainly helped. Werth has earned more playing time. Coste has earned more playing time. But it's the bullpen that's really held things together. The back end of the bullpen - Brad Lidge (0-0, 0.00 ERA and six saves in 11 appearances), J.C. Romero (1-0, 0.00 ERA in 12 appearances), and Tom Gordon (2-1, 1.93 ERA and one save since opening day) - has been unhittable. The bullpen as a whole has the best ERA in the National League (2.60) and the second best in the majors behind Tampa Bay (2.26).
You get good pitching you always have a chance, even if you only have three or four hitters swinging the bats well like the Phillies.
That seems to be what's happening here.
*
Pitching match ups for this week's series against the Padres.