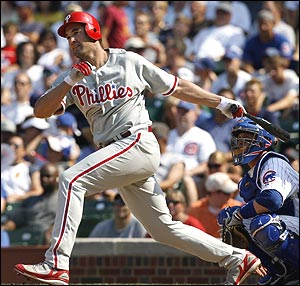 How long can they keep this up?
Pat Burrell and Chase Utley are the two hottest hitters in baseball. That's right, the two hottest. Burrell doubled with the bases loaded in the ninth inning in last night's dramatic 8-6 comeback victory over the Colorado Rockies at Coors Field. He is hitting .357 with seven home runs and 22 RBIs. He has a .471 on-base percentage and a .729 slugging percentage for a 1.200 OPS. He leads the majors in RBIs. He's second in the majors in home runs.
Only Utley has hit more home runs with nine. Utley, who went 2 for 5 with a double and two RBIs last night, is hitting .357 with nine homers and 20 RBIs. He has a .429 on-base percentage and an .810 slugging percentage for a 1.238 OPS. He's tied for second in baseball in RBIs with Manny Ramirez and Josh Hamilton.
Utley and Burrell are first and second in baseball in OPS.