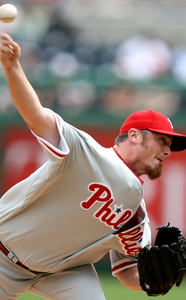 Brett Myers is lost.
He can't seem to break 89 mph with his fastball, which is a shock for somebody who always has been able to throw much harder. So he has abandoned his fastball early in games and has tried to fool hitters with his cutter and other offspeed pitches. It hasn't worked. He is 2-2 with a 5.11 ERA after six starts this season.
Charlie Manuel and Rich Dubee are concerned.
Dubee sounds even more frustrated.
"I think it's as simple as him throwing more fastballs and him getting out there and playing some more long toss," Dubee said. "He's not a real big believer in long toss, and I am. I think that's one way you develop arm strength. It gives you some elasticity in your arm, and I think it's something he has to buy into a little more. He doesn't do much at all. Game day, he throws five balls at a long distance and that's it."
Myers said he doesn't throw his fastball because the separation in speeds between the fastball (88 mph) and his cutter (84 mph) isn't enough. So he has thrown the cutter, hoping the extra movement on the ball might fool hitters.
"He wasn't going to throw the cutter today," Dubee said. "See how long that lasted? We were going to throw more curveballs. He threw them to the first couple hitters, and then he put it in his back pocket for whatever reason. We talked about getting away from the cutter and throwing more fastballs and throwing more curveballs because of the separation between the speeds. But he got away from that game plan for whatever reason."
Myers said he is open to doing anything that might pump up the mph on his fastball, and that means more long tossing in between starts.
We'll see what happens.
But it's obvious this is a very real concern. The Phillies expected Myers and Cole Hamels to be their 1-2 punch atop their rotation. If that doesn't happen, it's going to be very tough to hang in the National League East all season.
*
In the Phillies Notebook, the Phillies gave Paul Maholm credit, but they weren't amazed by his two-hitter yesterday in a 5-1 loss to the Pirates.
*
The Phillies today released triple-A Lehigh Valley outfielder Valentino Pascucci.