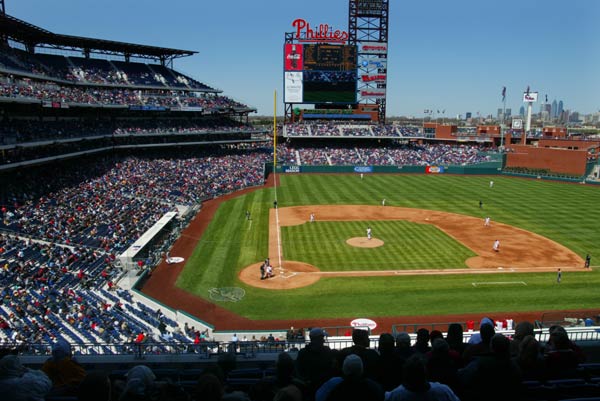 It's Opening Day 2008.
Finally, baseball that matters.
For the last 11 days, The Inquirer has counted down toward today's season opener. We previewed every starter at every position with loads of features to get you ready for baseball. But today we take a look at the people that keep the Phillies in business: the fans. Fans have been pouring into Citizens Bank Park since it opened in 2004. This season should be no different, especially if the Phillies get off to a good start and remain competitive in the National League East.
They will, won't they?
*
Other features today include:
Bill Lyon tells us why Phillies fans are the most loyal in baseball.
Phillies Memories. Some memorable moments from Phillies fans.
The Timeline. The timeline of attendance in Phillies history.
Fans in Motion. A video look at fans.
The Fan Gallery. Inquirer photographer David M Warren's photo gallery of fans.
*
Phil Sheridan wonders if the Phillies can flip the switch like they think they can.
*
Is Kyle Kendrick ready for the season to start?
He hopes so. So do the Phillies.
*
Pat Gillick said Brad Lidge could be back Saturday, when he is eligible to be activated from the DL, and other stuff in the Phillies notebook.
*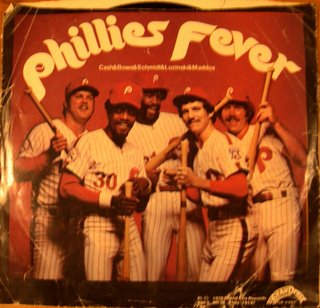 Scrapple & Iggs brings us the post of the day.
Have you got Phillies Fever?
No, seriously. Got the record in the attic somewhere? Sadly, I wasn't around for Phillies Fever. I feel like I missed out. I love the fact that teams did this stuff. I know Jimmy Rollins recently rapped on a CD, but I'd love to see Rollins, Ryan Howard, Chase Utley, Brett Myers and Cole Hamels in the studio. I'm not sure what kind of song it would be, but I'm sure it would be every bit as cool and classy as Phillies Fever.
The back of the record jacket reads: "Phillies Fever is a home run! An exciting, danceable, upbeat sound that captures the spirit of the greatest team in baseball." For those who were around, I'm wondering how much air play this song actually got. I mean, are we talking a staple at the clubs?
Civil Negligence asks, "So do you have Phillies Fever? If so, I heard the only prescription is more (David) Bell." To that I say, "Larry Bowa puts his pants on just like the rest of you, one leg at a time. Except once his pants are on he makes gold records."