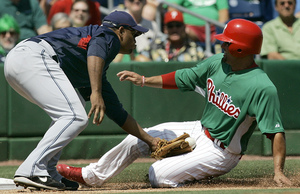 Charlie Manuel called Shane Victorino into his office a few days ago for a little talk.
He didn't look happy walking in.
He smiled walking out.
Somewhere in between, Manuel issued Victorino a challenge.
Message delivered.
"I love challenges," Victorino said. "I've always been that type of person."
The Phillies expect good things this season from Victorino, who replaces Aaron Rowand in center field. I think Victorino is a defensive upgrade from Rowand. He has a stronger, more accurate arm and has great speed. Manuel has said Rowand took better angles to the ball, which gave him good range. But Victorino's speed should allow him to get to balls just as well.
(Believe me, we're all ready to head back north.)
He allowed just two hits and one run in six innings in yesterday's 4-2 victory over Tampa Bay. He also retired the first 14 batters he faced.
Chris Coste's book The 33-Year-Old Rookie ranks 341st today on Amazon.com. It also lists the book as No. 1 in Sports-Baseball-History, No. 1 in baseball biographies and No. 1 in Pennsylvania history. I didn't know it was a history book, but, hey, you can't complain with a No. 1 ranking, right?
The Phillies yesterday optioned lefthander Fabio Castro to double-A Reading. They outrighted lefthander Shane Youman, which opens up a spot on the 40-man roster.