Victorino says incident with Lee was no big deal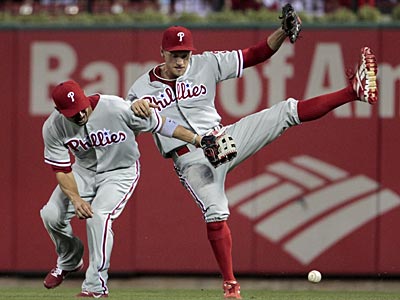 News blogs, sports blogs, entertainment blogs, and more from Philly.com, The Philadelphia Inquirer and the Philadelphia Daily News.
Victorino says incident with Lee was no big deal
Bob Brookover, Inquirer Baseball Columnist
ST. LOUIS -- After declining comment Friday night about his verbal dugout altercation with pitcher Cliff Lee, Shane Victorino opened up about the incident before Saturday's game against the St. Louis Cardinals.
"Yeah, everything is fine," the Phillies center fielder said about the heated exchange that was caught on camera. "I have no hard feelings about it. At the time, when emotions are flying high, you let it get to you. When emotions aren't (flying high) you let it go.
"To me, it's just nothing. It's just part of the game. I've seen it with multiple teams and, at the end of the day, we're going to go out there as teammates and be competitors and go out there and protect each other and go out there and win ballgames together as a team."
The verbal disagreement occurred after Victorino lost a David Freese fly ball in the twilight sky at the start of the bottom of the fourth inning during Friday night's 5-3, 10-inning Philies victory. Freese was credited with a triple and scored on Yadier Molina's RBI single, giving St. Louis a 3-2 lead. Things got worse when right fielder Hunter Pence lost a routine fly ball off rookie Matt Adams' bat later in the inning.
Pence said he never saw either fly ball.
"It (stinks)," Victorino said. "It was one of those things. You hope to pick it up and you can't. Before the inning, I looked up and the sky was a little pinkish above the stadium, but I thought it was still dark enough that I'd be fine. Two balls later, 'Oh, (crap).' "
Victorino confirmed that the altercation was about the play in center field.
"That's what we talked about," he said.
Although teammates arguing on camera never looks good, Victorino said it does show two players who care about the outcome.
"Exactly," he said. "It's the competitive state of the game. You never want to see that kind of stuff, but looking at a positive side, you both want to go out there and you both want to win. That's what it is about in the end. You're both competitors and you both want to win the game. Beyond that, it's nothing. You brush it under the rug and it's gone."
Victorino ended up being part of two huge plays that inevitably helped the Phillies pull out their third straight win. After Pence collided with Victorino on the second lost fly ball of the inning, the Phillies center fielder picked up the ball and nailed Molina at first base for the first out of the strange inning.
With the game tied at 3-3 in the bottom of the eighth, Victorino started the three-part sequence that resulted in the defensive play of the game. He retrieved a ball hit by Adams in the right-center field gap and threw to cutoff man Freddy Galvis, who fed catcher Carlos Ruiz a strike at home plate. Ruiz held on to the ball after a violent collision with Molina for the final out of the inning.
"I wish I had made a better throw on the relay," Victorino said. "I kind of took Freddy to his right a little bit so he had to go and kind of backhand the ball. Other than that, everything was executed perfectly. When you're running out there and trying to get the ball, you're trying to get it in as quick as you can and make the best throw you can. But out of that whole play, the one thing that would have made it easier is if I would have made a better relay. The play would have come together a lot quicker, but, hey, we still got the guy out."
---