Victorino begins 2-game suspension tonight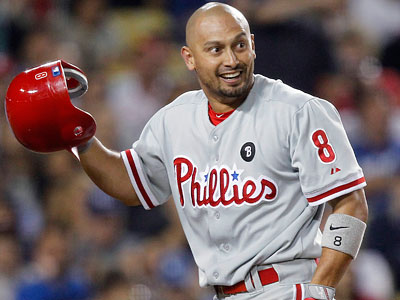 News blogs, sports blogs, entertainment blogs, and more from Philly.com, The Philadelphia Inquirer and the Philadelphia Daily News.
Victorino begins 2-game suspension tonight
Matt Gelb, Inquirer Staff Writer
Shane Victorino's appeal was heard by Major League Baseball and his suspension was reduced from three games to two. That hiatus will begin tonight in the finale against Arizona.
Victorino was the only player suspended from the benches-clearing brawl Aug. 5 in San Francisco. He was plunked by Giants reliever Ramon Ramirez, took a few steps toward the mound, and a melee ensued once Giants catcher Eli Whiteside grabbed Placido Polanco.
All four of those players were also fined. Victorino was suspended, MLB said, because his actions intensified the incident. Victorino pushed an umpire and re-entered the scrum.
Charlie Manuel is not only without Victorino, but also Ryan Howard and Carlos Ruiz. Howard had his right hand examined by doctors Thursday. General manager Ruben Amaro Jr. said there is little concern and that Howard's hand is merely sore.
Ruiz remains sidelined by a bruised left testicle and is still sore. Howard and Ruiz are both available to come off the bench, Manuel said.
The lineup against Cy Young candidate Ian Kennedy:
1. Jimmy Rollins 6
2. John Mayberry Jr. 8
3. Chase Utley 4
4. Hunter Pence 9
5. Raul Ibanez 7
6. Ross Gload 3
7. Brian Schneider 2
8. Wilson Valdez 5
9. Vance Worley 1
---
Have a question? Send it to Matt Gelb's Mailbag.
Download our NEW iPhone/Android app for easy access to all of our Phillies coverage, plus app-exclusive videos and analysis. Get it here.