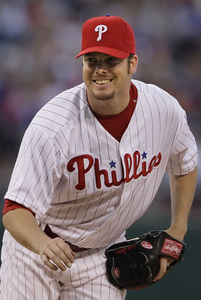 What's up with Adam Eaton?
He is 2-1 with a 2.29 ERA in his last three starts, which included last night's 3-2 victory over the Reds at Citizens Bank Park. Eaton has not had a three-start stretch like that since May 8-20, 2007, when he went 1-1 with a 1.74 ERA. I wrote today the Phillies have the best bullpen and second-best offense in the National League. You can imagine the possibilities this season if Eaton continues to pitch like this, Brett Myers returns to prior form and Cole Hamels, Jamie Moyer and Kyle Kendrick continue doing what they've been doing (save Hamels' last two starts, of course).
"It all starts with starting pitching," Pat Burrell said. "That sets the tone for the whole game. Their guy did pretty good; our guy did great. And our bullpen was great. With pitching like that, it's possible to win games with three runs. We've got a good thing going right now. We need to continue it."
Eaton has three-straight quality starts, but his next start will be a big one. He hasn't put together four-straight quality starts (three earned runs or fewer in six or more innings) since he had six-straight quality starts June 6 - July 3, 2004, with the San Diego Padres. He went 3-1 with a 1.83 ERA in that stretch. So while Eaton's last three starts have been encouraging, it's much, much too early to say he has turned a corner -- although the Phillies certainly hope that he has. Eaton has had flashes like this in the past, but his inconsistencies have caught up to him.