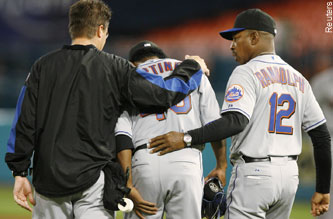 Sitting in his office late this spring in Clearwater, Pat Gillick tried to compare the Phillies to the rest of the National League East. He said he couldn't, but said he considered the East to be a three-horse race, and the winner could be the team that stayed the healthiest.
"Health is a big factor," he said.
So the fact that Mets righthander Pedro Martinez felt a pop in his hamstring after throwing his 57th pitch last night against the Florida Marlins at Dolphin Stadium is more than a little newsworthy.
Pop.
That sounds like a trip to the DL to me, but we'll find out more today. Martinez is headed back to New York for a MRI, but hamstring injuries can be tricky for pitchers. Martinez certainly is likely to miss his next start, which is Tuesday against the Phillies at Shea Stadium. The Mets already have Orlando Hernandez on the DL, so they're already having problems with pitching health.
"We'll see how it plays out," Mets manager Willie Randolph told reporters in Miami. "Hopefully, it's nothing real serious. But any time a pitcher pulls a hamstring, you've got to get it checked out and quiet it down a little bit."
*
Cole Hamels hopes to stay healthy the entire season, something he hasn't done since 2003. A victory tonight would quiet concerns that the Phillies could get off to another slow start.
*
Phillies notes, including Rudy Seanez.
*
Still taking questions for Ryan Howard. Send me your questions in an e-mail. Include your first name, initial of your last name and city and state where you live.