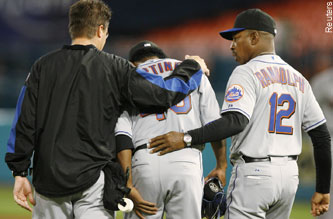 Sitting in his office late this spring in Clearwater, Pat Gillick tried to compare the Phillies to the rest of the National League East. He said he couldn't, but said he considered the East to be a three-horse race, and the winner could be the team that stayed the healthiest.
"Health is a big factor," he said.
So the fact that Mets righthander Pedro Martinez felt a pop in his hamstring after throwing his 57th pitch last night against the Florida Marlins at Dolphin Stadium is more than a little newsworthy.
Pop.