USA chants confused Phillies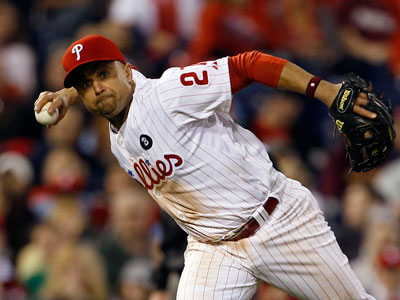 News blogs, sports blogs, entertainment blogs, and more from Philly.com, The Philadelphia Inquirer and the Philadelphia Daily News.
USA chants confused Phillies
Bob Brookover, Inquirer Baseball Columnist
The reaction in the Phillies' clubhouse to the news of Osama bin Laden's death was more subdued than the reaction from the sellout crowd at Citizens Bank Park in the middle of Sunday night's game with the New York Mets.
It could have had something to do with the fact that the game dragged on for nearly two more hours and five more innings after President Obama's news conference confirmed bin Laden's death. It could have also had something to do with the fact that the Phillies ended up on the short end of a 2-1 score in the 14-inning game.
As the news spread throughout the park, pockets of the crowd started chanting "USA, USA." The chants spread and intensified in between the top and the bottom of the ninth inning, causing confusion in the home team's dugout.
"I didn't know what was going on at first," first baseman Ryan Howard said. "I'll go home and check it out on the news."
Pitcher Cliff Lee, who left the game after surrendering a single run in seven innings, said he was sitting in the dugout when the chants started.
"I really didn't understand what was going on there for a minute and then someone came in and said bin Laden had been killed," Lee said. "It took them long enough."
Lee said there was a little bit of conversation about it in the dugout during the game, but nothing too elaborate.
Reliever Danys Baez said the pitchers in the bullpen were also confused about the "USA" chants until a cameraman from the ESPN crew informed them of the news. He said there was no conversation about it after that.
"It was a really close game and everybody was focused on the game," Baez said. "Obviously what happened today for the United States and the rest of the world was great, but there was a really close ballgame going on and we had to concentrate on that."
Baez said he still has a vivid recollection of the Sept. 11 terrorist attacks because they came a day after his birthday the year after he defected to this country from Cuba. He was playing for the Cleveland Indians at the time.
"We had flown from Cleveland to Kansas City," Baez said, adding that the charter flight got in late.
When he received a phone call from one of his coaches telling him the country had been attacked, he thought it was a joke.
"I was like, 'Come on man, we got here late last night and I'm not in any mood for a joke right now,' " Baez said. "He said, 'Turn on the TV, turn on the TV,' and I did and I realized what was going on. I have family in New York, some aunts and uncles who live in New York and work over there. I started trying to call them to see what was going on. Then we heard about the Pentagon and the other planes and stuff. Especially for me as a kid coming from Cuba who was only here two years, it was hard. I'm just glad I'm still here."
Phillies manager Charlie Manuel, who had been ejected in the seventh inning when he protested a call by third-base umpire Lance Barksdale, was more concerned about his struggling offense than the breaking news.
"I think they didn't realize it until (Shane) Victorino, he came in the video room and they told him what they were hollering about and he went and told the guys on the bench," Manuel said.
When asked what he thought about the "USA" chants, Manuel said "I think they were happy."
"I was more concentrating on the game," Manuel said.
Victorino denied that he broke the news to his teammates.
"That's 100-percent absolutely wrong," he said. "I didn't break the news, but I found out what happened. There was a buzz around the dugout that Osama had been killed, so that's why everybody was chanting 'USA.' I think everybody on the field was wondering what was going on.
"I guess it's a big day for Americans. It's a special moment for us. More important was the fact we were playing the game. That's more important than anything else. After the game, you sit back and you think about something like that happening and it has been almost 10 years. For those who have suffered, I heard a couple of statements on the news that for those people lost on 9-11, they have some kind of closure. It definitely is a big day for American history."
---
Download our NEW iPhone/Android app for easy access to all of our Phillies coverage, plus app-exclusive videos and analysis. Get it here.