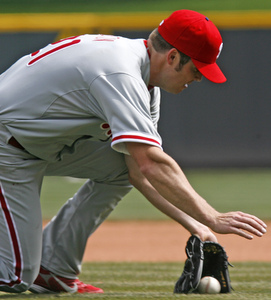 It's one start, so nobody should jump to conclusions.
But Adam Eaton did pitch well yesterday in a 4-3 loss to the Reds at Great American Ball Park. He allowed three runs in 7 2/3 innings. That effort is notable for a couple reasons:
He hadn't had a quality start since July 3 in Houston.

He hadn't pitched more than seven innings since June 11 against the Chicago White Sox.
Eaton pitched poorly last season when he went 10-10 with a 6.29 ERA, but in his first start in 2008 he looked like somebody who actually could give the Phillies' offense a chance to win some games this year. If I'm the Phillies, I'm happy if Eaton keeps his ERA around 4.50 this season. If he does that he could win 12 games or so.
"That was a great performance by Adam," Jimmy Rollins said. "I think it was a confidence-builder for him. I think it was for our team with him on the mound. It's something that we needed to see from him. He fought his way through some innings and kept us in the game, because we weren't hitting early."