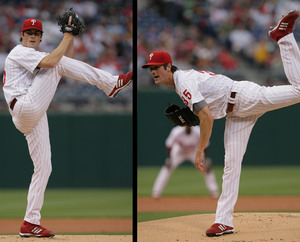 Cole Hamels has had moments like this before.
He carried a no-hitter into the fifth inning in his Phillies debut May 12, 2006, in Cincinnati. He carried a no-hitter into the seventh inning in Houston on Sept. 16, 2006. He struck out 15 in his first complete game in Cincinnati on April 21, 2007, and struck out 13 while throwing eight shutout innings against Washington on Sept. 28, 2007, which put the Phillies in sole possession of first place in the National League East with two games to play.
But tonight Hamels (5-3) picked up his first shutout in a 5-0 victory over the Atlanta Braves.
"I definitely think it's the best I've pitched so far this year," he said. "That's pretty much all I can remember."
Hamels threw 22 first-pitch strikes. He threw ball three just three times. He got five first-pitch outs. He allowed a single to Omar Infante with one out in the first inning but retired the next 15 batters he faced until Gregor Blanco singled with one out in the sixth. Hamels didn't walk a batter until he walked two in the eighth.
It's the first Phillies shutout since J.D. Durbin shutout the San Diego Padres on July 22 at Petco Park. It's also the first Phillies shutout at Citizens Bank Park since Jon Lieber shutout the New York Mets on Aug. 16, 2006.
*
Despite Hamels' effort, starting pitching remains this team's biggest concern. So the Phillies need to see something good from Kris Benson in the next couple weeks to believe he has a chance to help him this season. And they need to see it soon.
"We're always looking elsewhere for help," Phillies assistant general manager Ruben Amaro Jr. said. "He can't be our only option. He's not. But now that he's over his groin and he doesn't have any bicep symptoms anymore, we need to see him progress to think he might be able to help us."