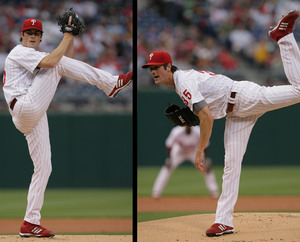 Cole Hamels has had moments like this before.
He carried a no-hitter into the fifth inning in his Phillies debut May 12, 2006, in Cincinnati. He carried a no-hitter into the seventh inning in Houston on Sept. 16, 2006. He struck out 15 in his first complete game in Cincinnati on April 21, 2007, and struck out 13 while throwing eight shutout innings against Washington on Sept. 28, 2007, which put the Phillies in sole possession of first place in the National League East with two games to play.
But tonight Hamels (5-3) picked up his first shutout in a 5-0 victory over the Atlanta Braves.
"I definitely think it's the best I've pitched so far this year," he said. "That's pretty much all I can remember."