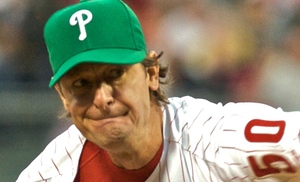 So let's take a quick look back at April.
The Phillies finished 15-13 and sit just a half-game behind the Florida Marlins for first place in the National League East.
How'd they do it?
The Phillies rank fifth in the league in runs (133), seventh in hitting (.258), seventh in on-base percentage (.335) and fourth in slugging percentage (.446). All things considered, that's not bad. I think those numbers should improve once Jimmy Rollins and Shane Victorino return to the lineup, and Ryan Howard gets on track. Pedro Feliz and Carlos Ruiz also have to start hitting the ball better. They've struggled. But the Phillies led the league in scoring each of the previous two seasons, so you know they can do better.