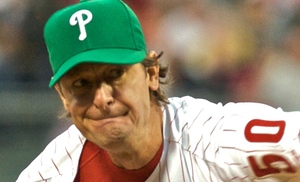 So let's take a quick look back at April.
The Phillies finished 15-13 and sit just a half-game behind the Florida Marlins for first place in the National League East.
How'd they do it?
The Phillies rank fifth in the league in runs (133), seventh in hitting (.258), seventh in on-base percentage (.335) and fourth in slugging percentage (.446). All things considered, that's not bad. I think those numbers should improve once Jimmy Rollins and Shane Victorino return to the lineup, and Ryan Howard gets on track. Pedro Feliz and Carlos Ruiz also have to start hitting the ball better. They've struggled. But the Phillies led the league in scoring each of the previous two seasons, so you know they can do better.
The Phillies have a 3.79 ERA, which ranks sixth in the league. That's somewhat remarkable considering how poorly they pitched last season. Their starters have a 4.37 ERA, which ranks 10th in the league, while their bullpen has a 2.77 ERA, which ranks third in the league. Brad Lidge, J.C. Romero and Tom Gordon have been terrific (other than Gordon's opening day appearance). If the starters continue to struggle -- Brett Myers, Adam Eaton and Kyle Kendrick have 5.08 ERAs or higher -- they'll need those three to continue to shorten games. They'll also need Chad Durbin, Rudy Seanez, Ryan Madson and Clay Condrey to pitch well.
Defense might be this team's biggest disappointment. After being a pretty good fielding team last season, the Phillies are third in the league with 24 errors. Only Pittsburgh (29) and Florida (27) have booted the ball more often than the Phillies. That must improve. They can't afford to give team's extra outs with a rotation that is struggling to find itself.
*
Don't forget to submit your questions to Jayson Werth. E-mail me here.
*
The Phillies lost last night to the Padres, 4-2.
*
In the Phillies Notebook, Randy Wolf faces his former team for the first time tonight and Rollins is unlikely to be activated from the DL on Monday in Arizona.
*
Today is the 125th anniversary of the Phillies' first game. Larry "The Baron" Shenk from the Phillies passed along these interesting tidbits:
Some of the more interesting rules and practices that were in effect in 1883:
Gloves were made of thin leather and did not cover the fingers.
The pitcher's "mound" was a flat surface, 50 feet from home plate (it became 60'6" in 1893).
Home plate was a 12-inch square, instead of the present-day five-sided figure that is 17 inches wide.
Catchers were positioned 20 or more feet behind the batter and caught the balls on a bounce. They did not wear chest protectors until 1885 or shinguards until 1907.
Batters were permitted to ask for a high or low pitch (rule was abolished in 1886).
Pitchers had to throw seven balls in order to issue a walk and were required to throw underhanded (overhanded began in 1884).
Rules prohibited the use of a new ball until the beginning of a new inning, no matter how worn or disfigured the ball might have been.
No games were played on Sundays.
There was one umpire a game.
Players had to pay for their uniforms (clubs began paying for them in 1912).
Team rosters were 11 or 12 players.