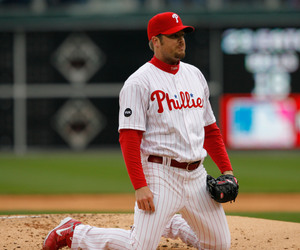 Half-full?
Half-empty?
Bob Ford wonders who the Phillies are as they play the 40th game of their season tonight against the Braves at Citizens Bank Park:
"Will the starting pitchers come up to the level of the bullpen or will the relievers sink down to meet them? Will Ryan Howard snap out of his slide as Jimmy Rollins and Shane Victorino begin to really arrive or will Chase Utley and Pat Burrell not be able to maintain their production? Is Pedro Feliz the player who was hitting .214 when he left town or the one who had raised his average to .240 by the time he returned? Brad Lidge, fact or fiction?
"All good questions, and all answerable only on faith right now. That is what the first 40 games does - poses the problems and presents the equations. Now they begin to be solved."
*
This team's biggest question mark (other than Howard) is its starting pitching.
*
Pitching match ups for the Braves vs. Phillies.
*
Brad Lidge? Yeah, he's been a pretty nice pick up for the Phillies.
Michael Bourn? He can run, but he hasn't shown he can hit. Some think it's time to pull the plug on Bourn already.
*
A Citizen's Blog talks about the Phillies and speed.