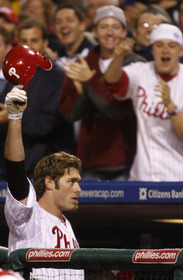 Jayson Werth finds himself in pretty exclusive company.
He hit three homers and tied a franchise-record with eight RBIs last night in a 10-3 victory over the Blue Jays at Citizens Bank Park.
He is one of just five players in the Phillies' 125-year history to have eight RBIs in a game. He joins Kitty Bransfield (July 11, 1910, at Pittsburgh), Gavvy Cravath (Aug. 8, 1915, at Cincinnati), Willie "Puddin' Head" Jones (Aug. 20, 1958, at St. Louis), and Mike Schmidt (April 17, 1976, at Chicago).

Bransfield hit .270 in his 12-year career from 1898 to 1911. Cravath was baseball's modern-day, single-season home-run champion with 24 in 1915 before Babe Ruth hit 29 in 1919. Jones helped the Whiz Kids win the National League pennant in 1950.

Schmidt? Yeah, you know about him.

"It's great company," Werth said. "It's a great honor to be on that list with those guys. It was just one of those nights. I really don't know what to say."
How about ... that was freakin' sweet?

*