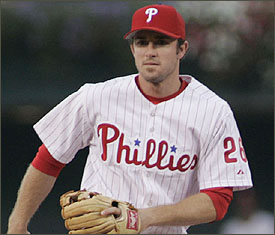 Chase Utley is making an early case for National League MVP:
Utley has homered in five straight games to tie a franchise record. Dick Allen (1969), Mike Schmidt (1979), and Bobby Abreu (2005) also accomplished the feat, but none of them did it twice like Utley, who also homered in five straight games from April 17 to 21.
He is hitting .419 (13 for 31) with seven homers and 20 RBIs in his last eight games.
He leads the majors with 21 homers.
He is second in the National League with 52 RBIs, runs with 48 and slugging percentage at .680.
He is fourth in the league in OPS at 1.083.
He is 11th in the league in hitting at .320 and doubles with 16.
Utley went 3 for 4 with a two-run home run in last night's 5-4 victory over the Reds at Citizens Bank Park. He added two more singles. He bowled over a catcher. He made two diving catches. Otherwise, he had a pretty quiet night. But at the moment you'd have to say it's a three-horse MVP race amongst Utley, Lance Berkman and Chipper Jones. If the Phillies continue to play good baseball and make the playoffs again, that could push Utley over the top against the other two.
Utley has 847,628 votes to lead every National Leaguer in votes for the All-Star Game. Jimmy Rollins remains fifth amongst shortstops (uh, hello?). Ryan Howard is fourth amongst first baseman and Pat Burrell is sixth amongst outfielders.
*