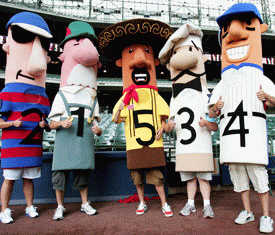 I picked the Polish Sausage (2) after its strong showing Tuesday night at Miller Park, but the Hot Dog (4) won the famous Sausage Race today -- beating the Italian Sausage by a casing.
Freakin' Hot Dog.
Also pictured are the Bratwurst (1), Chorizo (5) and Italian (3).
*
Jayson Werth hit a solo homer to center field in the sixth inning to tie the game, 1-1. Werth has hit safely in 11 of his 13 starts this season. He entered today hitting .291 (15 for 51) with three homers and seven RBIs in his previous 12 starts. He's doing a nice job in the leadoff spot for Jimmy Rollins, who is scheduled to take BP today in Clearwater.
Rollins is recovering from a SPRAINED ankle.