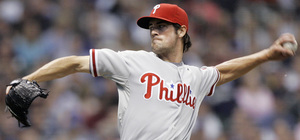 Charlie Manuel said he absolutely wanted Cole Hamels to start the eighth inning last night at Miller Park.
No matter that he had thrown 110 pitches. Hamels is his ace. Aces are supposed to pitch in big spots like that. Aces are supposed to get the job done. Obviously, the move didn't work out. Hamels served up a double to Ryan Braun and a two-run home run to Prince Fielder in a 5-4 loss to the Brewers.
Hamels threw a career-high 121 pitches last night.
Too many?
I didn't think he had thrown too many when he started the eighth. He had cruised through the second through seventh innings, allowing just two hits, one walk and striking out 10 in that span. I liked Hamels in that spot. I thought he deserved to start the inning. Plus, I think pitch counts suck. What I mean by that is that people complain that teams baby pitchers with pitch counts and they complain that teams don't pay enough attention to pitch counts ... depending on the game's result, of course.
He only threw 110 pitches! You can't send him out for another inning? Robin Roberts and Steve Carlton would have stayed in there!
For the love of God! He threw 110 pitches! Are you trying to kill the kid?
That said, when Hamels served up the double to Braun, I wondered if Manuel might call for J.C. Romero. He didn't.
"This is something I wanted to do all last year, and I wasn't given that opportunity," Hamels said. "Now I've been given that opportunity, and I haven't been able to succeed, so it kind of probably makes it harder for him to make that judgment the next time. You want to be able to finish off your games. It's something I'm going to work toward, but it's something I haven't been able to do the last couple of games."
*
In the Phillies Notebook, Brad Lidge has lived up to expectations, Jimmy Rollins' is taking BP today, Jayson Werth took the blame for last night's loss and more.
*
Ryan Howard went 0 for 4 with two strikeouts to drop his average to .181. He whipped his bat back to the dugout after both strikeouts, and sat in front of his locker for several minutes after last night's loss. He is very, very frustrated at this point. That much is clear.