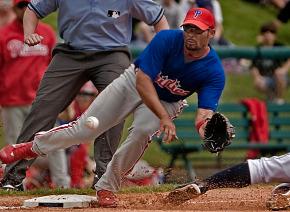 The Inquirer's countdown to Opening Day continues.
It's down to 5.
Five as in ... five days before the season opener.
Five as in ... third base.
Pedro Feliz has a reputation for being an impatient hitter. He is a career .252 hitter with a career .288 on-base percentage. He doesn't walk much.
At. All.
In fact, if you go to Feliz's page at Baseball Reference, there is a link to an article called "Pedro Feliz – Prodigious Out Making Machine." Ouch. But here's the thing: Feliz is hitting seventh in this lineup. The Phillies don't need him to make the offense go, like fans counted on him with the San Francisco Giants. The Phillies brought him here to play great defense, hit some home runs and give Charlie Manuel more flexibility with his bench.
"The big thing with Feliz is he's an everyday guy," Manuel said. "Now I don't have to use a couple players in the sixth inning. I don't have to burn two players. It saves our bench and makes us stronger late in games."
The Phillies had the lowest OPS for third basemen in the National League last year at .688.
Feliz has a career .721 OPS.
That's not much better, but if his presence at third saves the Phillies a few runs and allows Manuel to use Greg Dobbs and others for a key at-bat late in the game it could be worth it.
*
Other features include:
*
Another look at the 27 players the Phillies have in camp, and what they might be looking to do with their Opening Day roster. My prediction is this: the Phillies find a pitcher elsewhere, they put J.D. Durbin on waivers and open the season with 11 pitchers. They can get away with 11 pitchers for the first four games of the season, if they think closer Brad Lidge can be activated April 5 in Cincinnati.
That also allows the Phillies to open the season with outfielder Chris Snelling on the roster.
I predict Wes Helms is released. Historically the Phillies aren't one to eat contracts (Helms is owed a $2.15 million salary, plus a $750,000 buyout for his 2009 club option), although Pat Gillick did just that with Jim Thome after the 2005 season. I guess that's why I feel Helms could be released. Oh, and Gillick knows Snelling from his Seattle days. That could go a long way.
*
Kris Benson said he will remain with the Phillies, even if they didn't put him on the 40-man roster yesterday.
*
Jim Salisbury tells us how Andrew Hauser is trying to get to the big leagues on a titanium leg.