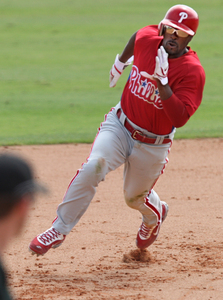 The Inquirer's countdown to Opening Day continues.
It's down to 6.
Six as in ... six days before the season opener.
Six as in ... shortstop.
Frank Fitzpatrick writes that Jimmy Rollins is "not just their MVP shortstop, their leadoff hitter, their spark plug, their clubhouse keystone. He is their verbal pressure valve."
He is.
It's funny to think, but before the 2007 season some people still griped about Rollins as a leadoff hitter. He didn't get on base enough. He didn't take enough pitches. Blah, blah, blah. I thought those people were crazy. So I wrote last spring that Rollins is one of the best leadoff hitters in baseball. Some people thought I was crazy. But Rollins ultimately proved me right, unlike the time I wrote Brandon Duckworth would be the next Nolan Ryan (just kidding ... I did not write that). Rollins won the NL MVP last year. He won Gold Glove and Silver Slugger honors. He became the first player in baseball history to have 200 hits, 15 triples, 25 homers and 25 stolen bases in a season. He became just the fourth player in baseball history to have 20 doubles, 20 triples, 20 homers and 20 stolen bases in a season (Willie Mays, Frank Schulte and Curtis Granderson are the others).
"Got to have a good shortstop at this level," Charlie Manuel said. "And I'd say we've got one of the best, maybe THE best. Defensively, Jimmy gives you everything you want from a shortstop. He can make all the plays out there. And I don't mean just the tough plays. What really makes Jimmy good is that he makes all the routine ones."
*
Other features include:
*
Phillies outfielder Chris Snelling has had 13 surgeries during his baseball career, eight on his left knee. He has gone to incredible lengths to stay on the field. Snelling is fighting with infielder Wes Helms for a roster spot -- I believe Snelling has the edge over Helms at this point -- although it would take the Phillies carrying 11 pitchers instead of 12 to have a chance.
"I feel like I've always been a kid in the candy store, but not allowed to eat any candy," Snelling said. "I keep getting slapped."
*
More on Brad Lidge's trip to the DL.