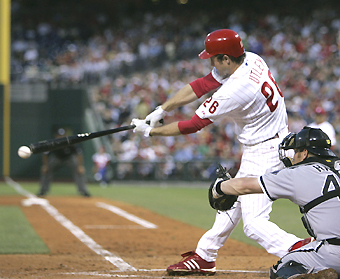 The Inquirer's countdown to Opening Day continues.

It's down to 4.

Four as in ... four days before the season opener.

Four as in ... second base.
Chase Utley considers himself merely a trendy pick for National League Most Valuable Player.
He is trendy for a few reasons: 1) He has incredible talent. 2) He finished in the top 10 in NL MVP voting each of the last two seasons, and 13th in 2005. 3) He has a chance to follow teammates Ryan Howard and Jimmy Rollins as MVP. Not since the New York Yankees trio of Roger Maris, Mickey Mantle and Elston Howard in 1961 through 1963 have three teammates won the MVP in consecutive seasons.

Could Utley make it a Phillies threesome?

Absolutely.
"He's the best second baseman in baseball," one rival scout said. "It's not even close. He's a great hitter. He runs every ball out. He plays hard. He's improved immensely on defense. He's a gamer. Give me him over anyone else."

Utley leads big-league second basemen in runs (328), hits (537), home runs (82) and RBIs (310) over the last three years.