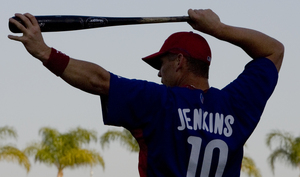 The Inquirer's countdown to Opening Day continues.
It's down to 9.
Nine as in ... nine days before the season opener.
Nine as in ... right field.
We take a look at Geoff Jenkins and Jayson Werth today.
Jenkins and Werth are expected to platoon in right field, although nobody knows exactly how Charlie Manuel will work that situation. But a platoon makes sense. Jenkins, who hits lefthanded, has hit .288 with a .358 on-base percentage and a .525 slugging percentage against righthanded pitchers, but just .242 with a .313 on-base percentage and a .408 slugging percentage against lefthanders. Werth, who hits righthanded, has hit .284 with a .378 on-base percentage and a .486 slugging percentage against lefthanders, but just .249 with a .342 on-base percentage and .408 slugging percentage against righthanders.
"We've joked about it," Jenkins said. " 'Man, you put your best with my best, and that's a pretty darn good player.' "
"We've been hanging out," Werth said. "We're getting along good, so there's no animosity or anything if that [a platoon] ends up happening. We've been throwing some numbers out there. Somebody made the comment - maybe it was Pat [Gillick] or Charlie [Manuel] or somebody - about the numbers we could put up, and we said, 'Man, if we could do that, we'd be all right.' We'll see."
Manuel didn't blink when somebody asked him earlier this spring if Jenkins and Werth could combine for 40 homers.
If they did that, it would be one of the best platoons in recent memory.
The Phillies would take it.
*
Other features today include:
*
It looks like Adam Eaton locked up the fifth spot in the Phillies' rotation.
But this doesn't mean Eaton is out of the woods yet. He needs to continue to pitch well. Because the Phillies will put Kris Benson into the rotation, if they think he can help. So if Eaton struggles the first four to six weeks of the season, his job won't be safe.
*
The Countdown continues tomorrow with center field.