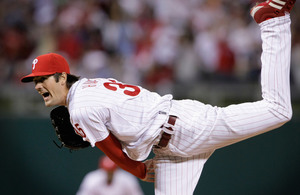 The Inquirer's countdown to Opening Day continues.
It's down to 1.
One as in ... one day before the season opener.
One as in ... pitcher.
Cole Hamels thinks he has a chance to win 20 games this year.
And win the Cy Young.
And throw a no-hitter.
But can he stay healthy? That's really the only issue surrounding Hamels these days. He just hasn't been able to stay healthy.
"When he's healthy, he's a darn good major-league pitcher," manager Charlie Manuel said. "When he's got all his pitches working, there's not many hitters who like to get into that box."
"Staying healthy is the key," Hamels said. "But I can tell you that right now I feel great. The back is good. The elbow is good. Everything is good. And as long as I'm feeling that way, I think I'm capable of accomplishing some pretty special things."
But the Phillies need more than production from Hamels and the rest of the rotation. They need their bullpen to come through. Bullpen is big.
*
Other features include:
Your Vote and Our Vote

. You picked the greatest pitcher in Phillies history. We picked the greatest pitchers in baseball history.

The Best At

. We take a look at the game's best at torturing the fans.

The Gloves

. Take a look at the gloves of each of the Phillies' position players, plus Hamels and

Brett Myers

.
*
Jim Salisbury tells us why the Phillies could repeat as NL East champs, and how everything could come crashing down.
*
Phil Sheridan writes that Charlie Manuel is concerned about his pitching staff.
*
Manuel said he isn't worried about the Phillies' poor spring record, but that's only because he's concerned about the pitching ... Righthander Tim Lahey made his Phillies debut yesterday.
*
Here's some good stuff from the Phillies blogosphere:
Balls, Sticks, & Stuff finds a link from NASA that allows you to change the variables in a curveball. I'm left utterly confused. ... A Citizen's Blog previews the Phillies' offense. ... Beer Leaguer is asking for your 2008 predictions. ... Phillies Nation picks the Phillies to finish third in the National League East. ... The Good Phight has a new look. ... We Should Be GM's turned two. Congratulations. You're all growns up. ... Mike's Baseball Rants is back. This is a very good thing. Welcome back, Mike.