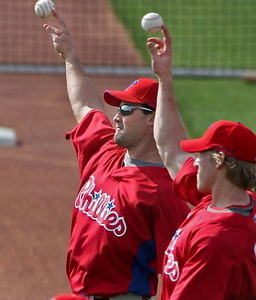 The Inquirer's countdown to Opening Day continues.
It's down to 7.
Seven as in ... seven days before the season opener.
Seven as in ... left field.
It's hard to believe, but Pat Burrell has been in red pinstripes longer than any other current Phillies player. That run is expected to end after this season. Burrell is finishing his six-year, $50 million contract extension and is unlikely to return. There are a couple reasons for that. First, the Phillies could stand to get younger and more athletic in left field. Second, even if Burrell takes a substantial pay cut from his $14 million salary, the Phillies might be better served finding a cheaper left fielder, knowing they have guys like Ryan Howard, Cole Hamels, Brett Myers, etc., looking for big pay days in the future.
Burrell hit just .201 with eight homers and 32 RBIs in 214 at-bats through July 1 last season, but .302 with 22 homers and 65 RBIs in 258 at-bats the rest of the way. But even then he hit just .157 with two homers and seven RBIs in the final 16 games.
But here's the interesting thing: For as much as Burrell frustrates fans, he has been more productive than people think. He had an RBI every 5.05 at-bats in 2002 and an RBI every 4.80 at-bats in 2005 - his two best seasons with the Phillies. Some consider his last two seasons down years, but he actually had an RBI every 4.86 at-bats in 2006 and every 4.87 at-bats last season. He had fewer RBIs the last two years than in 2002 and 2005 because he had about 100 fewer at-bats.
Burrell would like those 100 at-bats back.
He could get them, but he'd have to avoid his notorious slumps and show he can move around better in left field.
*
Other features include:
Your Vote and Our Vote. You picked the greatest leftfielder in Phillies history. We picked the greatest leftfielders in baseball history.
Phillies Memories. Some memorable Phillies moments from left field.
Good Field/Bad Field. Burrell picks his favorite and least favorite places to play left field.
The Best At. We take a look at the league's best at throwing his body around to make a play.
The Gloves. Take a look at the gloves of each of the Phillies' position players, plus Cole Hamels and Brett Myers.
The Timeline. A timeline of leftfielders in Phillies history.
Burrell in Motion. A video look at Burrell.
The Burrell Gallery. Inquirer photographer David M Warren's photo gallery of Burrell.
*
Pat Gillick says the Phillies are better offensively and defensively than the one that broke camp last year.
Pitching?
"It's got a shot," he said.
*
Brad Lidge remains hopeful he will be ready by Opening Day. The Phillies are more cautious about his chances. His velocity still isn't where it needs to be, but he thinks with three more minor-league spring training games this week it will be.