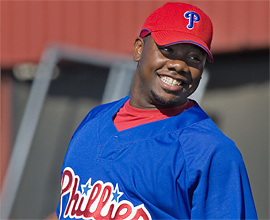 The Inquirer's countdown to Opening Day continues.

It's down to 3.

Three as in ... three days before the season opener.

Three as in ... first base.
Ryan Howard came into camp this spring in better shape than a year ago. But what about his mental health? Is he prepared for another 162 games of The Howard Shift? He better be because opposing managers certainly liked what they saw last year. Howard's average dipped from .313 in 2006 to .268 in 2007.
"A lot of it was the shift," Howard said. "When you talk about batting average, go back and see how many hits I had taken away by the shift. I don't know how many it was, but it was a lot.
"You see it, but you don't let it bother you. You've just got to really know your swing. When teams play the shift, it's all about knowing your swing. I can try and beat the shift not by pulling the ball, but by staying back and being confident that I can shoot it through the middle or shoot it past third base. Once I get into that mind-set, I'm OK."