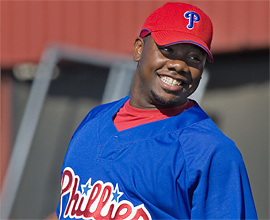 The Inquirer's countdown to Opening Day continues.
It's down to 3.
Three as in ... three days before the season opener.
Three as in ... first base.
Ryan Howard came into camp this spring in better shape than a year ago. But what about his mental health? Is he prepared for another 162 games of The Howard Shift? He better be because opposing managers certainly liked what they saw last year. Howard's average dipped from .313 in 2006 to .268 in 2007.
"A lot of it was the shift," Howard said. "When you talk about batting average, go back and see how many hits I had taken away by the shift. I don't know how many it was, but it was a lot.
"You see it, but you don't let it bother you. You've just got to really know your swing. When teams play the shift, it's all about knowing your swing. I can try and beat the shift not by pulling the ball, but by staying back and being confident that I can shoot it through the middle or shoot it past third base. Once I get into that mind-set, I'm OK."
Howard had a very good spring in Florida. Is that a sign he's OK? If he is, he could return to his MVP numbers from 2006.
Then he can tell those managers, "Shift this."
*
Other features include:
Your Vote and Our Vote

. You picked the greatest first baseman in Phillies history. We picked the greatest first basemen in baseball history.

The Best At

. We take a look at the game's best at keeping his mouth running.

The Gloves

. Take a look at the gloves of each of the Phillies' position players, plus

Cole Hamels

and

Brett Myers

.

The Timeline

. The timeline of first basemen in Phillies history.
*
The Phillies left Florida quickly yesterday. Pat Gillick figured out they could leave straight from Lakeland, rather than fight traffic to the airports in Tampa or Orlando. Smart guy. The traffic in Florida is famously brutal, so I give Gillick an 'A' for effort.
*
Jim Salisbury says the Phillies are expected to open the season with 11 pitchers. J.D. Durbin still could be one of them, but the Phillies are trying to upgrade before Monday. It also appears Wes Helms will win the team's final bench job over Chris Snelling, who could be claimed on waivers. But Helms could be the odd man out once closer Brad Lidge returns from the DL, which could happen April 5 in Cincinnati.
*
So, is this team better than the one that broke camp last spring?
"I'm not sure," Charlie Manuel said. "The concern is the same as it was last year. We talked last year about having six starters. I knew who we had from the start. I didn't tell you because I didn't want to be negative. I didn't want to sound depressed or down. I said, 'Let's see what we've got.' It's the same this year. Let's wait and see."
A gambling Web site has the Phillies' over/under for victories at 88.5. They won 89 games last year with one of the worst pitching staffs in the National League. If the Phillies can be just middle-of-the-pack with their pitching they could win more than 90, assuming the offense continues to score runs in bunches. If they continue to have more pitching problems, it's going to be another struggle.
It's all about the pitching. Is there reason to worry about Kyle Kendrick? Adam Eaton? How much more can Jamie Moyer give? What will Lidge give them once he's healthy? Can Tom Gordon stay healthy? Can J.C. Romero repeat last year's success? Lots of questions there. Lots. If you like the answers to those questions, take the over. If you don't, take the under.
Me?
Don't gamble (as far as you know).