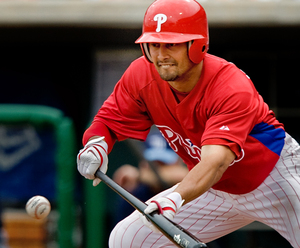 The Inquirer's countdown to Opening Day continues.
It's down to 8.
Eight as in ... eight days before the season opener.
Shane Victorino loved right field. Loved it. He loved knowing he could use his arm to cut down base runners. But once Aaron Rowand signed a five-year, $60 million contract with the San Francisco Giants, Victorino automatically became the starting center fielder.
He thought he'd never get a chance to throw out base runners again.
But then he saw New York Yankees centerfielder Melky Cabrera throw out a runner from center field this spring.
"I got so excited," Victorino said. "They said he had 12 assists from center field. And I got to thinking, 'You know what, why can't I throw out a guy from center as easily as I throw a guy out from right?'"
The Phillies are counting on Victorino not only to play a strong defensive center field -- his stronger, more accurate arm and speed could make him better defensively than the Gold Glove-winning Rowand -- but they also need him to produce in the No. 2 spot in the Phillies lineup.
*
Other features today include:
*
The Phillies have to place Kris Benson on the 40-man roster no later than Tuesday or he has 24 hours to opt out of his contract. But there are indications that even if the Phillies chose not to immediately place Benson on the 40-man thaat he has plans to stick around.
*
Jim Salisbury's Sunday baseball column takes a look at the unsung pillars in the baseball clubhouse. Check out Salisbury's Extra Bases, which tells us a little more about Wes Helms' future with the Phillies. It's going to be tough to trade him before the March 31 season opener. Baseball sources said Helms already has cleared waivers, which means nobody is willing to take him for his $2.9 million price tag. If the Phillies trade him, they'd have to eat a sizable portion of that contract. A more likely scenario would be a team signing Helms after the Phillies release him, which means a team that picks up Helms would be responsible for only $390,000 (the big-league minimum) of his $2.15 million base salary. The Phillies would be responsible for the rest.
*
Tomorrow's countdown continues with a look at Phillies left fielder Pat Burrell.