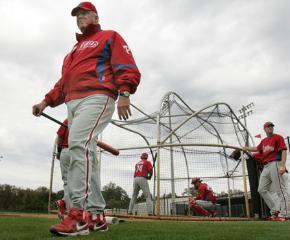 The Inquirer kicks off its 10-Day Countdown to opening day by featuring the man who fills out the lineup card and makes the call to the bullpen: Charlie Manuel.
Manuel has earned the reputation as a player's manager, which isn't a bad thing. But being a player's manager doesn't mean he's a pushover. He does his talking behind closed doors -- like he did with Shane Victorino a few days ago -- rather than chew out his players in the dugout so it can be caught on camera. His players appreciate that, and that's why they love playing for him. That's why they didn't burying themselves last season after their putrid 4-12 start.
He explains his philosophy to Jim Salisbury.
"When I go home after we lose a game, I don't want to sit down and feel like I overmanaged," Manuel said. "That's one of the worst things. I think the game should play out.

"I've heard managers say, 'I feel like I've got to do something to win the game. I've got to send this runner or do this.' You can almost hear them saying, 'I want to play a part in winning this game.' Well, I don't have to play a part in winning the game. I want our players to win the game."