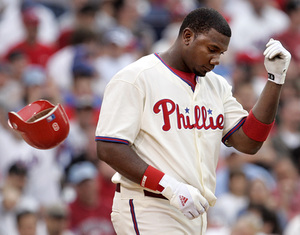 There is more to this puzzle than just Ryan Howard.
The Phillies haven't had Jimmy Rollins in their starting lineup since April 8. They haven't had Shane Victorino in their lineup since April 12. Pedro Feliz is hitting .203. Carlos Ruiz is hitting .213. Geoff Jenkins is hitting .228. The Phillies also entered yesterday's 4-2 loss to the New York Mets at Citizens Bank Park ranked 10th in the league in hitting with runners in scoring position at .245.
But Howard is the former NL MVP.
If he's not hitting, people notice.
I'm not sure if Howard is just a slow starter or not. He's certainly starting slow this season. He started slow last season, but his strained left quadriceps played a role in that. He actually hit .306 with five homers and 12 RBIs in April 2006, so I guess we can't say he's a historical slow starter. But it seems inevitable that he will start to hit. The Phillies hope it's sooner than later because they're wasting plenty of good pitching performances and you have to wonder how long that will last?
*
In the Phillies Notebook, Davey Lopes is back. Rollins is not.
*
Look who seems to be fulfilling his potential: Gavin Floyd.
Also check out Salisbury's Extra Bases.