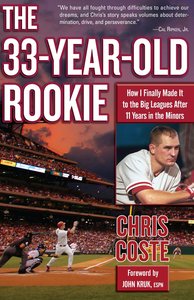 Chris Coste said he had a few nice moments throughout the process of writing and publishing The 33-Year-Old Rookie:
1) Finishing the first draft.
2) Finishing the final draft.
3) Receiving the first official copy in the mail.
4) Getting to see the book in bookstores.
That last experience happens today as the book receives its nationwide release. I got a copy of the book late last week and finished reading it today. I enjoyed it. As one of the beat writers who followed Coste during his memorable spring training in 2006, it was fun to relive that spring and learn more about everything he endured before and after it. But for the casual baseball fan, I think this is a good look at the grind and immense disappointments and struggles non-superstars like Coste endure just to get to the big leagues, even for a day.
I think it will help people appreciate their efforts more.
Next up for Coste?
How about Oprah?