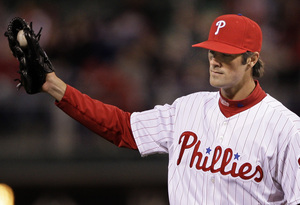 Such a waste.
That's the thing that irritated the Phillies the most last night. They wasted Cole Hamels' night. He pitched like the Cy Young winner he wants to be, but took the L in a 1-0 loss to the Nationals at Citizens Bank Park. On a team that figures to scratch and claw for quality starts this season, the normally high-powered offense failed when they only needed a few hits to win.
Instead, they got just one.
"That's the only thing that frustrates me about tonight," shortstop Jimmy Rollins said. "You know you're going to win some, you know you're to going to lose some. But to get a performance like that from Cole where he only gives up one run and you can't find a way to score, it's definitely a wasted effort."