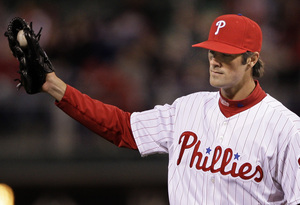 Such a waste.
That's the thing that irritated the Phillies the most last night. They wasted Cole Hamels' night. He pitched like the Cy Young winner he wants to be, but took the L in a 1-0 loss to the Nationals at Citizens Bank Park. On a team that figures to scratch and claw for quality starts this season, the normally high-powered offense failed when they only needed a few hits to win.
Instead, they got just one.
"That's the only thing that frustrates me about tonight," shortstop Jimmy Rollins said. "You know you're going to win some, you know you're to going to lose some. But to get a performance like that from Cole where he only gives up one run and you can't find a way to score, it's definitely a wasted effort."
The Phillies haven't been one-hit since July 2, 2003.
I'm not sure the last time they didn't have a runner reach second base.
(A hearty congratulatory e-mail from me if you know when that happened last.)
Now the Phillies turn to Jamie Moyer, Kyle Kendrick and Adam Eaton to prevent another slow start.
*
The Phillies need to win this afternoon in the series finale or suffer their third 0-3 start in as many seasons.
In 2006, the St. Louis Cardinals swetp them at home.
In 2007, the Atlanta Braves swept them at home.
The Nationals could be next.
*
Jim Salisbury thinks Rudy Seanez is worth a shot. At $400,000, there's no risk.
*
Wes Helms knew his time with the Phillies had ended once they signed Pedro Feliz in January.
*
Mike's Baseball Rants is calling it a season. Already? Yes, already.