Starters going deep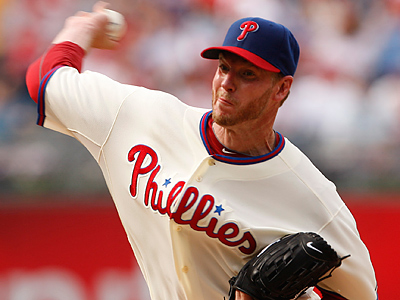 News blogs, sports blogs, entertainment blogs, and more from Philly.com, The Philadelphia Inquirer and the Philadelphia Daily News.
Starters going deep
Matt Gelb, Inquirer Staff Writer
Remember early in the season when the Phillies rotation consisted of Roy Halladay and pray for rain?

(An aside: It's drizzling here at Citizens Bank Park as I type this and the tarp has been on the field all day. Forecast looks like scattered showers all night.)

Well, it's May 18 and the Phillies' bullpen has pitched the fewest innings of any team in Major League Baseball. The bullpen has logged 93 1/3 innings in 33 games. Next fewest is the Yankees, with 96 1/3 innings in 36 games.

The starting pitching has been remarkable of late for the Phils. Only once in the last 15 games has a Phillies' starter pitched fewer than six innings -- Cole Hamels pitched just five on May 9.

Through 37 games, every Phillies starter has gone at least five innings except twice -- Kyle Kendrick did it both times (4 IP, April 8 and 1 2/3 IP, April 14). Not bad.

Here's what May looks like:

May 1: Halladay 9 IP, 0 ER (W)
May 2: Moyer 6 IP, 5 ER (W)
May 3: Blanton 6 2/3 IP, 4 ER (L)
May 4: Hamels 8 IP, 1 ER (ND)
May 5: Kendrick 7 IP, 0 ER (W)
May 6: Halladay 7 IP, 2 ER (W)
May 7: Moyer 9 IP, 0 ER (W)
May 8: Blanton 6 IP, 3 ER (L)
May 9: Hamels 5 IP, 3 ER (W)
May 10: Kendrick 6 IP, 4 ER (ND)
May 11: PPD
May 12: Halladay 6 1/3 IP, 2 ER (ND)
May 13: OFF
May 14: Moyer 6 1/3 IP, 4 ER (W)
May 15: Blanton 7 IP, 5 ER (W)
May 16: Hamels 6 2/3 IP, 2 ER (W)
May 17: Kendrick 8 IP, 2 ER (W)

In May, Phillies starters are 10-2 with two no decisions.

Some parts of the bullpen -- like Jose Contreras, Danys Baez and Chad Durbin have sometimes been taxed -- but in most spots, the Phillies have been judicious with their use of the bullpen because of the innings from the starters.

Just something to chew on...