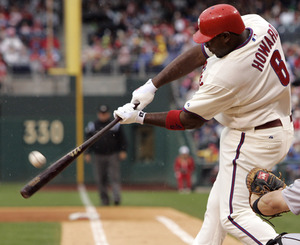 Flyers, Sixers and Eagles:
Done.
Guess that means it's Phillies, Phillies, Phillies for everybody, unless you're a diehard Soul fan or something. By the way, are there diehard Soul fans? I know two things about the Soul: Jon Bon Jovi and Ron Jaworski. Anyway ... the Phillies lost yesterday to the Toronto Blue Jays at Citizens Bank Park, 6-5, to finish their six-game homestand 3-3. They'll need to play better on their seven-game road trip through Washington and Houston.
It looked like the Phillies had something cooking in the sixth inning until the rain and Roy Halladay arrived to kill a rally.