"We have an excellent offensive team." - Pat Burrell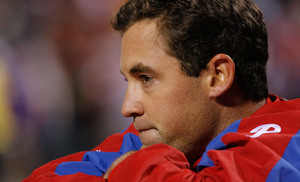 How to look at the Phillies' offense?
It's second in the National League in scoring? Or it has been shutout six times?
It's an offense with a tremendous track record and should turn around? Or it has been in a slump for a month and it's time to worry?
"We've got a lot of good players," Burrell said last night after a 2-0 loss to the St. Louis Cardinals. "Maybe it's that time of year when guys are tired or whatever, but there's no excuse. We've got to go out there and play."
Charlie Manuel brought up a possibility in Texas a couple weeks ago that maybe some of his players are just having down years. Or maybe they had career years the past couple seasons and this year they are returning to their normal production levels.
The Phillies have hit just .238 and averaged just 4.3 runs per game since they were a season-high 13 games over .500 on June 8. Before that they had hit .263 and averaged 5.3 runs per game. So they're averaging a run less per game since they reached their highest point of the season. That doesn't sound like much, but it is. Remember that the Phillies scored 20 runs against the Cardinals on June 13. Take that game out of the equation and the Phillies have averaged just 3.7 runs per game since June 8.
That's a month of poor production from the offense.
Consider the San Diego Padres and Washington Nationals are the two worst offenses in the National League this season. They have averaged 3.7 runs per game and 3.6 runs per game, respectively.
*
The Phillies still think they can help their team despite the fact CC Sabathia and Rich Harden are off the market.
*
Bob Ford isn't into this whole online voting/texting thing for the all-star game.
*
In the Phillies Notebook, Tom Gordon could be out a while.