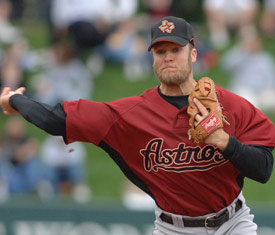 Eric Bruntlett has played seven positions in the majors, every position except pitcher and catcher.
Could he catch?
"Seven is enough," Phillies bench coach Jimy Williams said.
The Phillies acquired Bruntlett and Brad Lidge for Geoff Geary, Michael Bourn and Mike Costanzo in a November trade with the Houston Astros. Charlie Manuel didn't know too much about Bruntlett before he arrived, but he likes what he sees.