Ryan Howard breaks toe; season over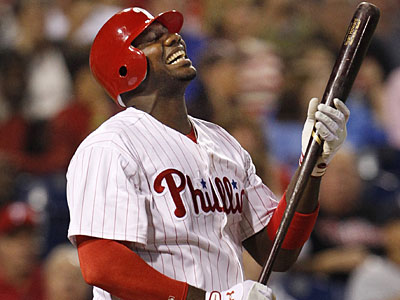 News blogs, sports blogs, entertainment blogs, and more from Philly.com, The Philadelphia Inquirer and the Philadelphia Daily News.
Ryan Howard breaks toe; season over
Matt Gelb, Inquirer Staff Writer
MIAMI — No one moment can better characterize this cursed Phillies season than Ryan Howard breaking his right big toe while standing in the on-deck circle. He did it Thursday by dropping a lead pipe he uses for practice swings.
The $125 million slugger's season, the most trying of his career, is over. "It was a learning process," Howard said.
What was the No. 1 lesson?
"Don't get hurt."
The broken toe, believed to be a hairline fracture after Friday X-rays, will not affect his winter training program. He can walk down the aisle at his December wedding without a boot.
It will rob him five final games in 2012, a year made difficult on the final swing of 2011. His ruptured Achilles cost him the first 84 games and sapped him of strength at the plate.
Howard finished with career lows in batting average (.219), on-base percentage (.295) and slugging percentage (.423).
"I know I'm a better hitter than that," Howard said.
"His best years are ahead of him," Charlie Manuel said.
The Phillies sure hope so. They will pay Howard $105 million in the next four seasons.
---
Have a question? Send it to Matt Gelb's Mailbag.